5 Ways to Celebrate Customer Service Week
Recognition & Motivation Ideas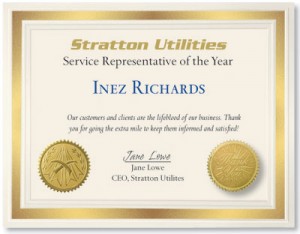 Your customer service representatives are the face of your company. They smooth out issues when mistakes occur. And, because every 2% increase in customer retention can be equal to 10% in cut costs, they can even save your company money.
During Customer Service Week, let your customer service staff know how appreciated they are. Five ideas for celebrating:
1. Recognize a different customer service representative each day of the week.
Happy customers tell 4 to 6 people about a good customer service experience, which means your reps can be your best marketers. Did one of your representatives go above and beyond to solve a customer's issue? Did someone, through acts of excellent service, increase sales? Take the time to publicly praise those whose contributions keep your business running smoothly.
2. Give tokens of your appreciation to your employees.
Small perks and bonuses make your customer service team members feel appreciated. Offerings can include small boxes of chocolate, vouchers for a longer lunch break or small motivational gifts they can keep at their desks.
3. Send daily email tips.
Has a member of your customer service team discovered a way to solve a common problem? Share the information with the rest of your customer service staff. Be sure to credit the resourceful employee who discovered the solution.
4. Hold a customer service idea contest.
Employees are more motivated when they feel their ideas are valued. For Customer Service Week, hold a contest and have your employees submit their best new customer service ideas. Be sure to publicly thank all participants. Provide a small but meaningful prize to the employee with the best idea. Be sure to stay in communication with the employee to talk about how her idea is being implemented to improve your business.
5. Host an employee breakfast.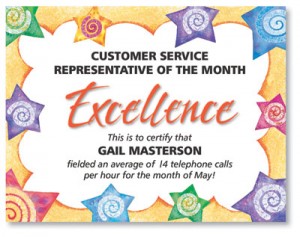 Instead of the usual employee luncheon, bring in bagels, donuts, fresh fruit, specialty coffees and other breakfast foods to treat your employees. They will appreciate the morning break and the chance to enjoy a treat together.
Your customer service staff helps your business all year long. By taking the time to provide special perks each day of Customer Service Week, you can be sure that they know how much you appreciate them.
PaperDirect knows how important your customers are to you. Come to us to find paper products that make your print communications stand out.