6 Cool Office Decor Ideas to Make Your Workspace Instagrammable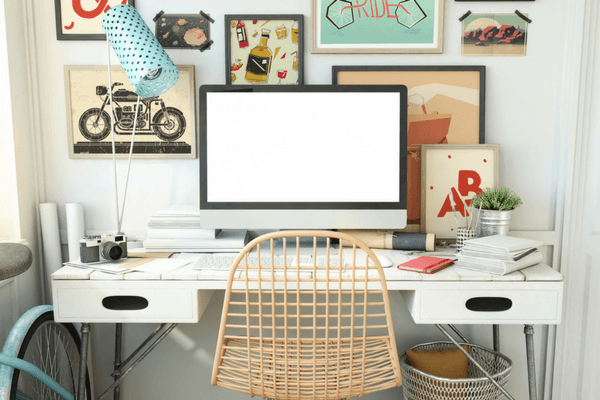 Your workspace is a direct reflection of you. It is vibrant, exciting, and welcoming? Or, is your space bland and blah?
If you find yourself snapping tons of selfies at work for Instagram, pencil in a mini cubicle makeover using our cool office ideas so you can show the world more about you. After all, we could all use a little office refresh!
Uncommon Live Plants
If there's tons of light or a windowsill in your office, add a living, breathing pet plant. Go for something that could work as a conversation starter, like a bold blue orchid, twisty bamboo, or a bug-eating Venus fly trap. Give that greenery a catchy name and introduce him on Instagram as your new office mate.
Expressive Cozy Pillows
Style your office chair, couch, or relaxation area with some emoji-face pillows. Each time you give a social media update, you can share your current mood by strategically placing the corresponding pillow in the frame. Clever and quirky!
Stress-Relieving Gadgets
From fidget spinners to squishy stress balls, it's nice to have something for our fingers to fiddle with during a tense conference call. Earn bonus points for getting the marketing team to print your business logo on these gadgets so your company gets a free shout out each time your desk or office lands on Instagram.
Wacky Wall Art
Gone are the days of displaying mass-produced framed pictures. Skip the abstract landscapes and hang up something that brings you joy. Enlarge a family picture, show off your sketching skills, hang a quilt, display your own painting masterpiece, or frame that signed baseball jersey.
Creative Computer Accessories
Whether you channel your love of the 90s and cover your laptop with stickers, or feature a funny pet photo on your desktop, these details add extra interest to your Instagram updates. Update your background and accessories based on your mood to keep things interesting!
Awards and Accolades
Are you a little league Coach of the Year? Were you named the office Social Media Queen? Show off those award certificates with honor and pride on your desk or walls. They highlight your personality and will make you smile each time you see them, even in the background of your social posts.
Looking for more cool office ideas? Visit the PaperDirect blog to make your workplace rock! We can help you with everything from planning office parties and events to celebrating the accomplishments of your loyal employees.