7 Funny Office Christmas Card Ideas Even Your Boss Will Love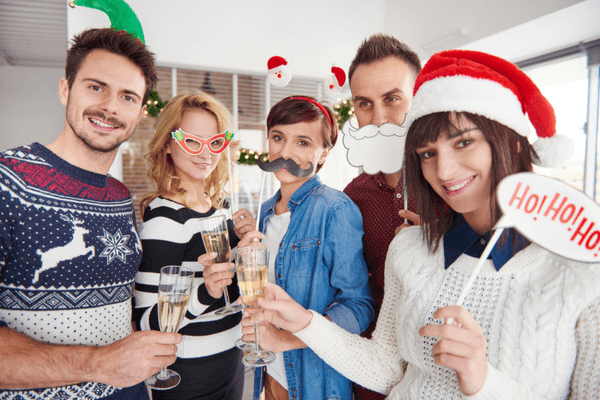 You could sit around making up holiday rhymes for your office card until the reindeer came home, but the true impact of a Christmas card often comes from the picture. A funny photo can transform what could be another ho-hum holiday card into a sensational greeting that keeps recipients laughing. Check out seven funny office Christmas card ideas for cover photos that showcase your company having loads of fun.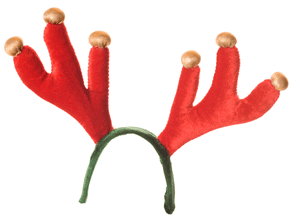 Best Holiday Outfits (with Antlers)
Having everyone dress up in their best holiday clothes may not seem so funny – but it can be when each person dons a pair of reindeer antlers. Make sure the outfits and setting is top-notch professional, with the folks in the picture looking very serious as if they have no idea they each have a pair of antlers stuck atop their heads.
Worst Holiday Outfits
Remember those ugly sweaters you all wore to work during last year's ugly holiday sweater contest? Pull them out, put them on, and snap a photo of everyone grimacing and poking fun at the sweater on the person beside them.
Party Action Shot
Crazy things can happen at the office Christmas party when people drink too much spiked punch. Emulate this type of party action shot for your office Christmas card photo. As one of the most creative office Christmas card ideas, feel free to let your sense of humor shine.
Have one coworker put a lampshade on his head. Have another drinking directly from the punch bowl. Think of ridiculous actions you and your co-workers could do at a party, then act it out for the photo.
Human Snowflake
This idea involves everyone dressed in holiday colors, then lying on their backs on the floor to create a human snowflake pattern. Your photographer needs a ladder to get a good shot of this one, but the effort is worth the snazzy results.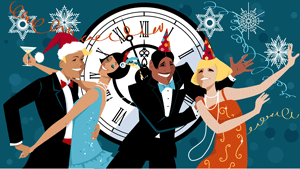 Period Piece
Pick an era, any era, then have your office staff dress up in holiday clothes indicative of that era. Choices include a happy hippy '60s holiday, old-fashioned clothing from the colonial days, or a flapping Christmas from the roaring '20s. Use fonts and photo filters that match the era to give your photo an even more authentic feel.
Stuck-on Heads
A group shot of reindeer, elves, or a scene from "A Charlie Brown Christmas" makes an excellent foundation for a funny office card photo. All you have to do next is replace the characters' heads with images of the faces of everyone in your office.
Group Caricature
Having an artist whip up a whimsical group caricature is another way to spread holiday cheer. The faces should look like you and your coworkers, of course, but the clothing and activities can be witty and whimsical, with folks wearing Santa Claus outfits, peeking out from a Christmas tree, or wielding giant candy canes.
Once you've gone through the office Christmas card ideas and landed on one that's a perfect match for your workplace, it's time to pick out the stationery for your holiday letter. Head over to PaperDirect for a fabulous array of layouts, colors, and designs to put the final touch on your hilarious holiday card.