Creative Halloween Invitations
Seasonal & Special Events Ideas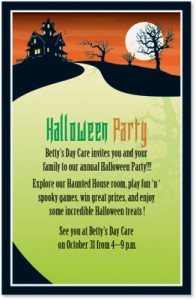 If you are planning a Halloween party, PaperDirect has the creative Halloween invitations you need to impress your guests and set the mood for a ghoulish Halloween bash this year. With over 115 creative Halloween invitation designs to choose from, you're sure to find one you love! Whether your party is for adults or children or both, PaperDirect's huge selection of Halloween designs will create only one challenge for you: Deciding which one you love the most, and that's not a bad problem to have, huh?
Invitations, Postcards, Border Paper and Banners for Halloween
Here are some of our most popular creative Halloween invitations:
Haunted Hill Casual Invitations
Smiling Jack Casual Invitations
Lil' Monsters Casual Invitations
Halloween Masquerade Casual Invitations
You can also create your own creative Halloween invitation wording by selecting PaperDirect fall/Halloween themed border paper including these popular designs:
Pumpkin Parade Border Paper
Good Ghost Border Paper
Haunted Hill Border Paper
Spooky Lane Border Paper
Haunted Cemetery Border Paper
PaperDirect postcards can also be used to create your own Halloween invitations. Take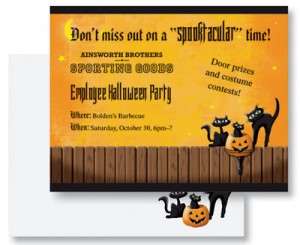 a look at these festive Halloween postcards that make great invitations that are easy to write up and inexpensive to mail out to your guests:
Spooky Lane Halloween Postcards
Black Cat Capers Postcards
Fright Night Postcards
Witchy Kitty Postcards
I Want My Mummy Postcards
How about PaperDirect Halloween vinyl banners that make create-your-own Halloween invitations?
Pumpkin Hayride Vinyl Banners
Haunted  Hill Vinyl Banners
Lil'  Monsters Vinyl Banners
Harvest Sunshine Vinyl Banners
The PaperDirect blog is a great place to read about creative Halloween party ideas, Halloween games and party planning tips. Here are some recent PaperDirect blogs that offer party planning tips (even for the novice) and other Halloween-related tidbits that you may find useful as you get ready for this very popular holiday for kids and adults alike!
Now that you have ideas for invitations and how to plan/organize your party, this blog has some fun Halloween party games to keep your guests entertainment.