Keeping Employees Motivated With Gift Certificates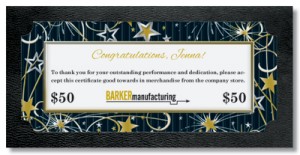 When it comes to making sure your business continues to grow, one of the most important aspects is your employee's moral. It's a well known fact that when your employees are happy, even though the business may be going through an economic rough patch, the business itself stays solid and productive. And one way to keep employees happy is to keep them motivated. While the typical employee is deeply grateful for the paycheck they take home every pay period, they also want to be shown they're appreciated above and beyond the paycheck. There are lots of employee motivation ideas, but the best ones really don't cost much at all.  For instance, gift certificates.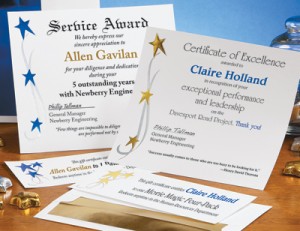 Granted, employees do like to be recognized for their achievements. This is where using certificates of merit, plaques, and even glass or crystal awards can give the employee a trophy that shows the company does appreciate their skills. But employees appreciate being shown gratitude in other ways as well.
This is where a gift certificate can be a great motivational factor. Gift certificates can be for special things like vacations and other high end perks, but they could also be for dollars or a percentage off of the company's products. For instance, if the company sells clothing, as an incentive, employees could earn a gift certificate good for 50% off of any purchases made with that certificate. While standard discounts may already exist, having a big discount like that certainly can make a big difference, especially around the holidays.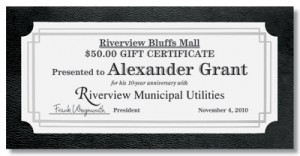 When it comes to gift certificates, using them as an earned employee motivational idea makes sense. Employees don't have to do anything except what is required to earn the points to acquire it. These could be rewards for being safe on the job, or having perfect attendance over a certain period of time or for hitting production quotas on a consistent basis. A gift certificate doesn't have to be for a huge dollar amount in order to motivate an employee. It simply has to be a goal they can attain.