Personalized Ways to Say Thanks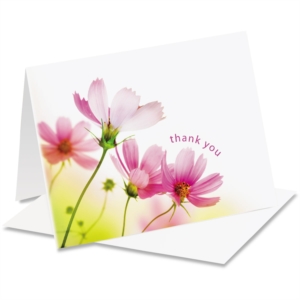 It's true that technology has taken over the way that we communicate with others. Instead of writing a letter, you will simply jot someone an e-mail. Instead of making a phone call, you might just shoot someone a simple text message. However, thank you notes have remained a tried-and-true way to properly thank those you love for doing something nice for you. There are many occasions that call for thank you notes, and personalized thank you notes can help set your thank you notes apart from the rest.
Personalized Ways to Say Thanks
Wedding Thank You Notes — Chances are, hundreds of guests showed up on your big day to wish you well as you start your marriage, and most of them came bearing gifts. Personalized wedding thank you notes can include a monogram with your new spouse or a photograph from your wedding or honeymoon. Guests will enjoy feeling like they were a special part of your day and will cherish the memory that a photograph provides. Check out the various custom photo card options that are available on PaperDirect.

Baby Thank You Notes — Whether you received a gift for your little one at your shower or you got a package after your new bundle of joy arrived, a thank you note is an appropriate way to say thanks that is much appreciated by the gift giver. Personalize a baby thank you note with the name and statistics of the new baby, or add a photograph to show off that special little one.

General Thank You Notes – There are many occasions that will come up where you will want to have a personalized thank you note on hand. Perhaps create a batch that includes a thank you message but also a monogram for you personally. For this project, you can create custom letterhead on PaperDirect.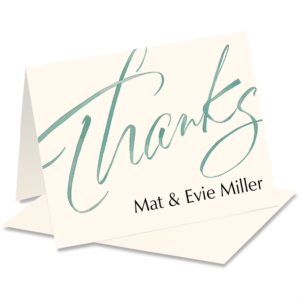 These personalized touches will set your thank you notes apart from the others that people receive. Personalized note cards will get the point across that you were truly grateful for their gift or gesture, and you wanted to thank them personally.