Simple Ways to Pay it Forward on National Smile Day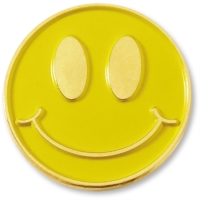 June 15 is "National Power of a Smile Day," so while you always hear about people "paying it forward" and engaging in random acts of kindness, why not get involved yourself this summer?
While the day can be marked by doing things to make yourself smile, there's perhaps no greater feeling in the world than by bringing an unexpected smile to a family member, friend, co-worker or even a complete stranger's face. So why not get involved this June 15? Here are some ideas to get you started and on your way:
Send a greeting card: There's nothing anywhere that says that you can't send a greeting card when there's no special occasion. So pick up some nice stationery and write out cards to your friends, family and peers about how much you appreciate them. Thank them for being a big part of your life, whether it be professionally or non-professionally. There's perhaps nothing that's more likely to elicit a wide grin than an unexpected card in the mail.
Buy someone's coffee: This method of paying if forward is a little more sneaky than what we previously mentioned. When you're getting your morning coffee on June 15, go through the drive-thru. Then, as you're paying for your own drink at the cashier's window, pay for the order in the car behind you as well. It's a huge treat to the unsuspecting driver behind you and one that's bound to get their day off on the right, smiling track. You can do the same with drive-thru food and driving through toll booths.
Personally thank good service people: Out to breakfast, lunch or dinner? Bring a smile to the restaurant staff who worked hard to give you an enjoyable dining experience by thanking them all personally. Thank and tip your waiter extra – but don't stop there. Thank the bus boys, the hosts and hostesses and ask to see if you can go back in the kitchen to personally thank the cooks themselves.
Do something small: Paying it forward doesn't have to be about secretly buying someone something or sending "thank you" or greeting cards to people you admire and appreciate. It can be something small too, like a random act of kindness. Give up your seat for someone else on the bus or train, help an elderly citizen cross the street or just tell someone how nice they look.