10 Ways to Use Certificates to Reward Employees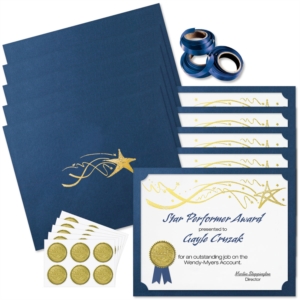 An important part of working in human resources is proving to employees that they are both respected and appreciated. You don't always have to spend a large portion of your budget in order to show your employees that you are grateful for the hard work that they do. It's easy to learn how to use certificates to reward employees, and the PaperDirect.com certificate maker allows you to create these awards in an instant.
Ways to Use Certificates to Reward Employees
Create an employee of the month certificate for an outstanding worker.
Design a certificate for an employee who recently achieved a goal they had been working toward in the office.
Host a mock election and offer certificates to the award winners. This is a great team-building exercise.
If you have heard that an employee has done a good deed in or out of the office, create a certificate to recognize them.
Present certificates to employees who are continuing their education in order to further their career.
Create a behind-the-scenes certificate for an employee whose work often goes unrecognized.
Make a certificate for a rookie employee who recently celebrated their first year anniversary with the company in order to recognize their achievement.
Build a certificate for an employee who has recently achieved a new skill, recognizing the effort they have put in to making themselves a more well-rounded employee in the work place.
Make birthday certificates to pass out to employees on their birthday. Even something little like this can make an employee feel appreciated, recognized and respected within the organization.
Set up an office weight loss challenge and provide all participants who complete the program with certificates recognizing their achievement. This allows your employees to feel like you care about them as a person as well as an asset to the company.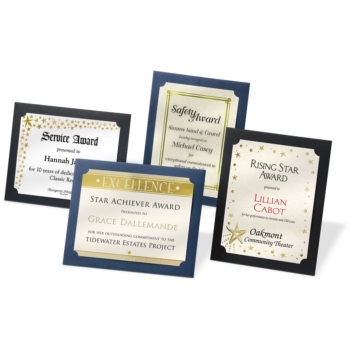 Certificates are the perfect way to easily and simply recognize the efforts that anemployee has made within the company. You can create custom designs that reflect the mission of your business as well as the motive behind the certificate. A certificate is something that the employee can display and will likely treasure for years to come at the office. While you probably recognize your employees in many other ways, the certificate is a tried-and-true way to show that you care. For more certificate ideas and designs, visit PaperDirect.