Christmas Recognition Tip #2 – Plan the Party
Recognition & Motivation Ideas

Nothing screams gratitude like treating your colleagues to an end-of-year party. Start planning the festive gathering now to make it the talk of the office all January-long.
Here's a few planning ideas to get you started:
Will the party have a theme?
Maybe it can tie in with a company slogan or the biggest project tackled during the year? If not, winter wonderland is always a great, festive option.
Where should the party be held?
Get away from the office and try something eclectic like an art museum, roller skating rink or indoor botanical garden.
What type of food should be served?
Consider a tapas-style dining experience or having live-cooking demonstrations to mix things up! If you're on a tight budget, have a potluck where the "favorite" dish receives a gift card.
When will the party take place?
Plan for a Saturday afternoon if children and spouses of employees are also invited. Be careful not to plan too close to Christmas- people may be traveling for the holiday.
Once you have the party plans figured out, send save-the-date postcards to everyone in the company!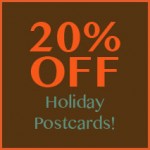 This week at Paper Direct, get 20% off holiday postcards that work perfectly for this project! Simply enter code WCRT1014B at checkout to get the discount.
View our entire Christmas employee recognition guide here.