Christmas Recognition Tip #3 – Spread the Word
Recognition & Motivation Ideas

You've made a list of employees who deserve to be recognized. A celebratory cake is on order. Now you need to tell everyone about the big event. Whether the employee recognition ceremony is part of the annual company holiday party, or a separate event, get the staff excited about the occasion.
Design a simple, festive announcement on holiday border paper that can be posted around the office.
Here's a few places to hang the colorful announcement:
Meeting rooms
Staff lounge and break areas
Restroom doors
Company cafeteria, daycare or exercise room
In elevators and on staircase doors
If you don't have any holiday stationary on hand, Paper Direct has several styles to choose from. If this recognition ceremony will be an even bigger ordeal, consider sending holiday invitations to each employee's house. This will create buzz surrounding the event and really get people excited to attend.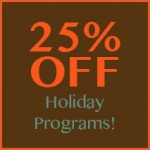 As a bonus, this week we're offering 25% off holiday programs products. Use code WCRT1014B when you checkout to get the savings.
Then view the entire recognition planning guide here.