Christmas Recognition Tip #4 – Gifts
Recognition & Motivation Ideas

Thank your employees for their hard work all year long. Whether you gift them a monetary bonus on their paychecks, hand each person a wrapped gift at a holiday party or tuck gift cards in personalized letters sent to each person's home — they will appreciate it!
Make a Gift List
Start thinking of gift ideas now. Everyone should receive the same thing to be fair. Popular employer gifts during the holidays include:
Frozen hams for holiday meals
Gift cards to popular local retailers
Company stock options
Fruit baskets
Wine/Beer Variety Pack
Gifts from a Local Store
Gas Cards
Personalized Ornament
Office Gear Like mouse pads, mugs or pens
Sweatshirt or T shirt
Other SWAG items
For more Christmas-Inspired Office Gifts, browse PaperDirects selection of personalized items.
Keep a Budget in Mind
When brainstorming gift ideas, think of how much you can spend on each person. Don't forget to include seasonal employees and consultants who help make your business run smoothly. Small businesses might only be able to afford a $25 gift, while larger companies bestow thousands of dollars in goodies to their employees.
No matter your budget, remember: its the thought that counts!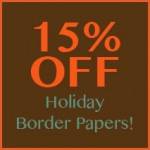 This week we're offering 15% off Holiday Border Papers to make correspondence with your staff festive and personalized.
Use code WCRT1014B at checkout to get this special offer.
View our entire guide to Christmas Recognition