Christmas Recognition Tip #5 – Decide Awards
Recognition & Motivation Ideas

It only takes a second to name your top employees. So, why is it so difficult to think of an appropriate award for their year-long contributions to the company? This holiday season, keep your recognition program quick and simple.
3 Steps to the Perfect Award Presentation:
1. Name the person and give three reasons they're being honored.
For example, highlight a project they completed with superior results or give a shout out for their performance in a group situation.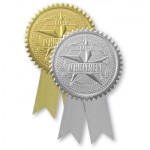 2. Publicly present an award to them.
This can be as simple as an envelope with a bonus check or gift card tucked inside. Always include a handwritten note of appreciation with the award. Since it's the holiday season, consider using holiday invitations in lieu of office letterhead.
3. Give them a chance to respond.
Take the focus off the presenter and hand the microphone to the employee. Ask them to share a tip for success or a few words of inspiration to boost the morale of the entire staff. This will break up the ceremony and keep it lively. It is also a great solution if you're not keen on speaking all night.
Are you brainstorming awards ideas and how you'll present them? Get started by ordering holiday invitations so you can start writing out the personalized notes.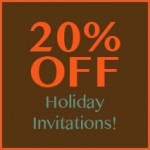 This week, enjoy 20% off holiday invitations at Paper Direct.
Use Code WCRT1014B at checkout to get this limited-time discount.