Happy Volunteer Appreciation Day! Here's How to Honor Your Volunteers
Recognition & Motivation Ideas
Okay, so it's not Volunteer Appreciation Day just yet, but it's coming! The official day in 2016 is April 20, which leaves you plenty of time to honor your rockstars.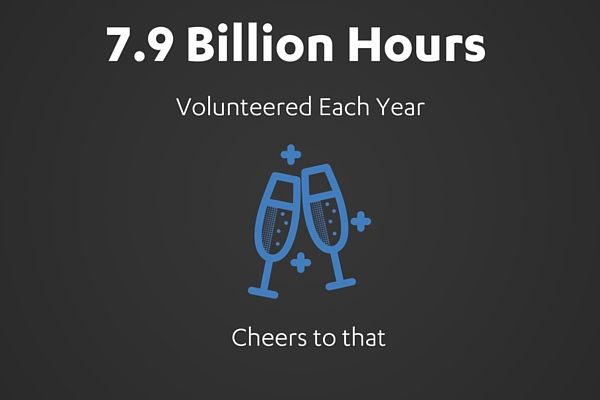 The National Conference on Citizenship estimated that in 2012, 64.3 million Americans volunteered 7.9 billion hours of their time to nonprofit organizations!
Without the efforts of these generous individuals, many charities across the country would not be able to manage day-to-day operations, meet fundraising goals, or help the communities they serve. Learn how to honor volunteers with these volunteer appreciation ideas this April.
Award Certificates
Establish a program that awards volunteers when they've achieved certain benchmarks. For example, when a volunteer has worked 500 total hours, recognize all of that time with a framed certificate. Also, your charity could host an award ceremony and invite all the volunteers to attend as the organization recognizes these impressive milestones.
Decorate the Walls
The halls of your organization should highlight all of the volunteer hours donated to over the years. Pictures of volunteers in-actions and plaques honoring those who have achieved milestones demonstrates how much your charity values these helpful individuals. Have fun with this decorating project and think outside-of-the-box about how you can display all of the amazing efforts donated by volunteers.  
Host a Party
Invite volunteers to a gathering that celebrates all of their hard work and dedication. Whether it's a pancake breakfast or a formal dinner, get your staff and volunteers together to honor all of the hours of manpower given to your organization. Consider fun themes that really showcase these incredible generous people, such as a Hollywood theme where the volunteers are the stars.
Share Their Work
Whether it's on social media channels, in a regular newsletter, or compiled in a PowerPoint presentation, tell everyone who will listen how fantastic your volunteers are as often as possible.
From those who help at events to the people that stuff envelopes for fundraising campaigns, share their hours of dedication anywhere you can post a photo and a few sentences detailing their efforts. Your volunteers will feel truly honored seeing their hard work incorporated into marketing and communication materials.
Send Thank You Notes
A handwritten "thank you" card is a personal gesture that goes a very long way. For example, after hosting a large fundraising event that required many volunteers, write "thank you" notes to everyone who pitched in. While some consider this gesture antiquated, numerous organizations know how to honor volunteers, and it's simply by taking the time to formally thank them.
Give Back
A small token of your nonprofit's appreciation can be a truly meaningful gesture to volunteers. These gifts don't have to be fancy or expensive, but should be creative and useful. For example, giving a packet of seeds to each of your volunteers is a thoughtful way to say "thank you" for helping a charity grow while adding something beautiful to these people's homes.
Happy volunteer appreciation day from PaperDirect!