Hosting an Outdoor Party – Tips to Consider
Seasonal & Special Events Ideas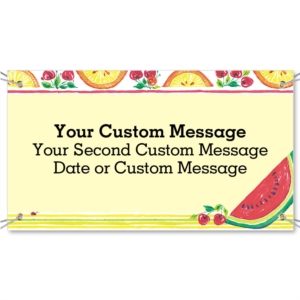 The time to entertain outdoors is finally here again, so let's get that yard and pool cleaned up, the house straightened, and the creative juices flowing, so you can host the outdoor summer party of the year!
PaperDirect regularly offers birthday party tips, holiday party tips, and anniversary party tips, but today, we're going to look at some tips for hosting and decorating an outdoor party now that warm temperatures and blue skies have arrived.
Offer plenty of seating for your guests. Sometimes hosts assume that because the party is outdoors, people will not want to sit, but that's just not true. If you don't have enough chairs or benches, you can lay out blankets on the grass. Young children will love sprawling out on the grass, and adults will enjoy the picnic-like feel that blankets in the grass create.
When it comes to food, be aware of temperature and refrigeration. To avoid food poisoning, you must make sure cold foods stay cold and if foods are set outside for guests, they only stay out as long as is safe. Summer party foods like potato salad, pasta salad, cole slaw, and the like cannot sit out in the warm temperatures for hours on end. Be sure to research each food you plan to serve if you are not sure about its temperature requirements. Another food tip is to prepare as many dishes in advanceas possible so you have less to do the actual day of the party.
Be creative with decorating for your outdoor party by using fresh flowers, grass cuttings and other greenery to add a pop of color and the natural fragrance of outdoors to your shindig. Use outdoor lighting and candles for after dusk; be creative by mixing up candle shapes and sizes and spread them throughout the party area. Holiday lights make great nighttime lighting accessories. If you have a swimming pool, you can find a variety of pool lights that float.
Decorate the tables with seasonal table clothes, plates, cups, napkins, place cards and vinyl banners from PaperDirect. Theme parties such as "tropical" or Fourth of Julymake it easy to find matching decorations.
PaperDirect is your one-stop online shopping source for everything you need for youroutdoor party this summer! Shop online today!