9 Dazzlingly Simple Office Christmas Decorating Ideas
Christmas & Holiday Party Tips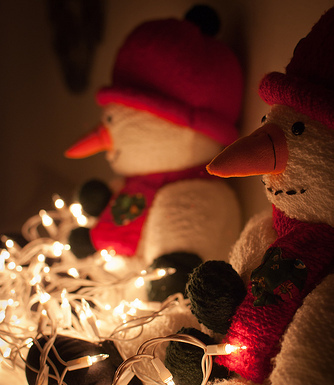 Bedecking your office for Christmas can be fun, festive and dazzlingly simple. Check out 9 easy office Christmas decorating ideas that can add instant oomph to the workplace.
A Tree (or Several): A larger Christmas tree in the lobby, or small, pre-decorated desktop trees strategically placed around the office can add several doses of Christmas cheer. Keep it easy with artificial trees that can be boxed up and stored.
Perked-up Plants: If your office is already blessed with several plants, deck their boughs with ornaments, tinsel, stars and holiday-oriented figurines.
Christmas Card Displays: Use pushpins or tape to display your incoming Christmas cards around doorways, on bulletin boards or centered on the wall in the shape of a wreath.Christmas Signs: Invest in vinyl, re-usable Christmas signs you can easily roll up to store and then bring out year after year. They're ideal as a welcome sign for the lobby or as holiday color in the hallways or break room.
Christmas Wrapping Paper: Go for a magnificent Christmas makeover by wrapping up your office doors, your interior front doors, bathroom doors, cubicle walls or other large, flat surfaces.
Bows: Bows peppered around the office add dashes and splashes of colorful cheer. Go for the big, fat velvet bows, the smaller Christmas gift bows or a combination of both. Try them on the doors, around windows, on the coat rack and cabinets.
Stuffed Santa: Prop a happy, stuffed Santa in your lobby, break room or on his own special chair somewhere around the office. Perhaps your receptionist would like a pal?
Office Snowman: A stuffed snowman can be just as fun as Santa, and your crew can make him themselves. Simply stuff three white pillowcases with shredded or crumpled paper, secure them with twist ties in a three-tiered pile, and use a marker to draw on a face and buttons. Add a hat and scarf for extra festivity.
Screensavers and Desktop Images: Offices with loads of computers can add loads of Christmas color by going for holiday screensavers and desktop imagery. You can download sleigh loads of screensaver options online and encourage employees to post their favorite winter scene or Christmas photo as their desktop image.
While these office Christmas decorating ideas may be simple and economical, their impact can be huge. You may notice a few extra smiles around the workplace, which often merrily leads to the gift of increased productivity.