6 Different Wedding Shower Ideas
Wedding showers have long been part of the American tradition, sometimes making coming up with fresh wedding shower ideas difficult. Anyone who has attended several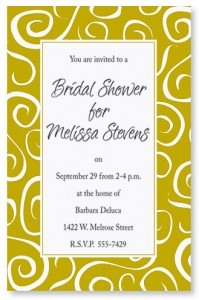 wedding showers likely has run across many of the same themes and games. However, with a little creativity, it is possible to throw a spectacular wedding shower that the bride will remember fondly forever. Make sure to top the party off with a unique wedding shower invitation.
Think Outside the Box
If you are stuck on a place to start planning, start by thinking outside the box. Every bride is wonderfully unique, so the answer to a fun and unique shower likely lies within her interests. Start with making a list of the bride's likes, experiences and hobbies, down to the last detail. It will uncover throngs of fun and fresh wedding shower ideas. Here are some ideas to get your creativity flowing:
Perhaps the bride loves old romantic movies. Try an elegant luncheon complete with table linens and photographer ready to take some black and white stills.

Destination wedding showers are also another way to make the event fun and creative. Hotels, vineyards, theme parks, beaches, cabins or anywhere reachable but considered an "escape" could be a wonderful destination and theme around which to build a shower.

Try a surprise shower! Arrange with her boss to have the afternoon off and kidnap the bride for her own surprise shower. Make it an event of the unexpected by holding the shower in the most unexpected place, with the most unexpected foods and at least one unexpected attendee.

Does the bride love cooking shows? Hire a chef to come and give the wedding shower attendees a lesson in making some spectacular meal that can be shared together upon completion.

If the couple loves the outdoors and sports, take a cue and think adventure for completely out-of-the-box wedding shower ideas. Choose a beautiful outdoor setting and have gifts that will let the couple pursue all of he fun life offers, such as kayak or tennis lessons, or hiking gear.

A variation of the "fill the pantry" wedding shower idea is a "debt down" party, where a beautiful and fun filled party is planned and gifts are focused on paying down one particular debt that would help the couple begin their life together with one less stressor.
With a little effort, and a few fresh wedding shower ideas, you can plan a special and memorable wedding shower.