Successful Wedding Tips: Wedding Thank-You Note Etiquette
Thank You Notes Etiquette & Wording
Wedding etiquette has just as many little details as etiquette for any other occasion. In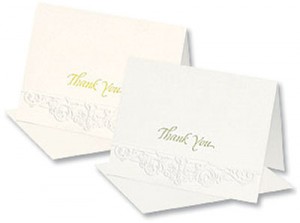 order to adhere to all of these details, understanding the nuances of why you have to follow them helps to understand what to do. Wedding thank you etiquette is no different, and here are the basics of the procedures you need to follow.
Write your wedding thank you notes as soon as possible after the gifts are received. Phoning or e-mailing the giver is NOT considered acceptable; only a handwritten note will do. Using note card with a pre-printed "Thank You" is acceptable, or you can choose any Note Card, which come in designs and colors to match your wedding invitation. A nice touch is to print your married name(s) on the front of your note cards or have them printed with your monogram:
"Mr. and Mrs. Steven Smith"
"Jane Smith"
"Jane and Steven Smith"
The typical thank you note
Write a brief note by hand on the inside of the card. Try to mail all your wedding thank you notes within a month after the wedding. Three months is traditionally the very latest date for sending them. Try to thank the giver as sincerely and warmly in your note as you would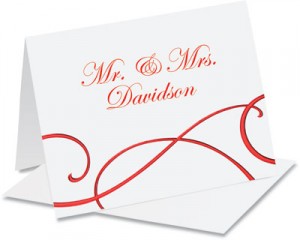 in person. Also, remember to send a note to everyone involved in your wedding, from the flower girl to the best man and maid of honor, this way you're following wedding thank you note etiquette to the letter.
1. Begin with the salutation, such as "Dear Mr. and Mrs. Madison," "Dear Aunt Martha," or "Dear Julie and Donnie."
2. The first sentence generally begins with you, so the gift-givers know who is thanking them. "Steven and I would like to thank you…"
3. Mention the gift, and be as specific as possible. Let the giver know how nice you think the item is, and how you will use it.
4. The exception is a gift of cash. It is considered more polite not to mention cash, check, or the amount given. Just thank the givers for the "generous gift" and explain how you plan to use it.
5. If you received the same gift from someone else, or if you have to return the gift, NEVER mention that fact to the giver! Concentrate on thanking the giver for her thoughtfulness and generosity.
6. Close your note with a personal thought about your relationship with the gift-giver, and sign your note with a heartfelt closing such as, "Fondly," Sincerely," or "Love."
Wedding attendance and giftDear Aunt Martha,
Steven and I would like to thank you for adding to the joy of our wedding with your presence and your lovely gift. We will treasure it—and your thoughtfulness—always.
Fondly,
Jane and Steven Smith
Gift of money
Dear Julie and Donnie,
Please accept our sincere thanks for the lovely gift. Your good wishes mean so much to us and have added to the joy of our wedding.
Sincerely,
Jane and Steven Smith
Wedding attendant
Dear Julie,
Thank you for joining us as we began our new life together. Your generosity and thoughtfulness are very much appreciated. As the years go by, we will look back and remember the special part you played in our happiness.
Love,
Jane and Steven
Wedding gift
Dear Mr. and Mrs. Madison,
Thank you for sharing in our joy and keeping us in your thoughts. We will always treasure your beautiful gift and your good wishes.
Fondly,
Jane and Steven Smith
About Monograms
An elegant and truly personal way to accent your invitation or personal stationery is to add a monogram. Thank you note etiquette states that a monogram on usually contains three initials, the largest positioned in the center. Although monograms often appear in an elegant script font, you will want to complement the tone of your wedding, whether elegant, casual, or intimate. Use the same font for your invitations, announcements, response cards, reception cards, and personal stationery.
When creating a monogram, the following initial-positioning guidelines apply:
• For both the bride and groom
This format can also be used for personalizing informals and serving pieces.
1. Bride's first initial
2. Groom's last initial (the largest)
3. Groom's first initial
• For one name
This format is used for personalizing gifts for the bridesmaids and groomsmen.
1. First name initial
2. Last name initial (the largest)
3. Middle name initial
• For two or three initials of the same size
This format is a more casual option. List initials in name order with the last name initial appearing last.
• For a single initial
This format is ideal for the couple's post-wedding stationery. Use the groom's last name initial.
Monogram Design Options
Depending on your design skills, you can also create your own monogram style. Some options are: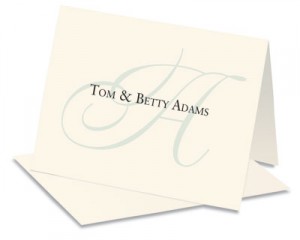 1. Use the groom's last name initial in a large point size with a less intense color saturation and overprint it with your first names using a smaller point size and 100% color saturation.
2. Format your first names in a script font and place above the groom's last name, formatted in a block font.
3. Format your first names above a design element such as a scroll, swish, or single flower design.
Wedding thank you note etiquette is an art that will impress your guests and show them how much you appreciate their thoughtfulness and generosity.