Creating Your Wedding Program in 6 Simple Steps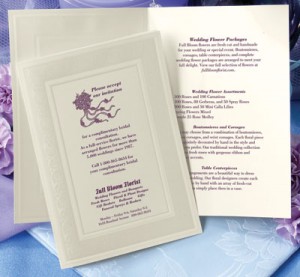 After all the months of planning, the crisis over the dress, finding the perfect place to go on a honeymoon, everything is done except for one thing, creating a wedding program. This program flyer everyone is going to be given when they come in the door is so important. While this would send most people into a frenzy, with a little time, a plan and a guide, designing your wedding program will only take a few minutes. Here's what it takes:
1) Use a front graphic cover that sets the tone for the wedding. Classic weddings will want to have the church on the cover, more progressive may have a graphic or picture of the wedding theme
2) The inside left page will have an itinerary of events. This is what people will pay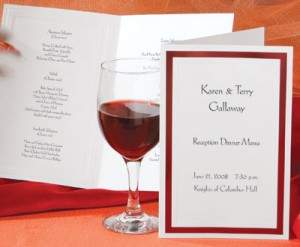 attention to when the wedding ceremony itself starts
3) The inside right page can be used for a variety of things. Primarily, it can be used to complete the itinerary if need be. Most weddings are complex enough with all the different events inside the wedding ceremony that using the right page for this is necessary
4) The back can be used for several different things. If the reception is to be held at a completely different location than the wedding, directions to the reception and even a map can be used
5) If needed, a liner sheet can be used for extra information. Words to a poem or song that will be used during the ceremony can be on it
6) A repetition of the wedding invitation can also be used on the liner or as the front cover. This gives the parents names, etc. so everyone will feel invited and welcomed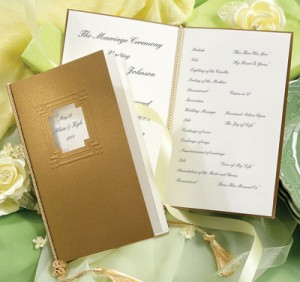 The wedding program is designed to give those in the audience a level of understanding of what all is going to occur during the ceremony. The other information contained in the program can vary but should be either about the ceremony, what is to occur after the ceremony or has to do with the families of the bride and groom. With just a little time and effort, the wedding program isn't a huge thing to stress over, but can be the centerpiece of the ceremony.