Writing Wedding Invitations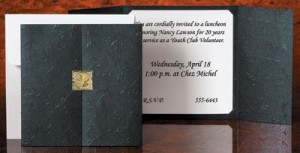 Writing wedding invitations is one of the first and most important tasks you do for your wedding. After choosing a wedding invitation style that best reflects the style of your wedding, the next step is to match the style of the wording to the style of the invitation. Even in very casual weddings, it is important to adhere to proper etiquette and include those that should be included and bestow the proper amount of honor that the occasion demands when writing invitations.
Style and wedding invitation wording
Formal (with wording such as "request the honor of your presence" or "request the pleasure of your company"). For very formal church weddings, British spellings may still be used ("honour of your presence").
Casual/Intimate (adapted to your own personal style, such as "join the celebration of our union" or "share in our joy").
Each style traditionally begins with the name(s) of the wedding host(s), often the bride's parent(s) or the couple themselves.
Write out full names
Spell out all words, including hours, dates, years, street or road.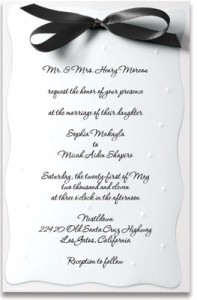 Information to be listed
Bride's name and groom's name
Bride's parents/stepparents
Groom's parents/stepparents
Wedding date and time
Place and time where ceremony will be held
Place and time where reception will be held
Whether you choose Traditional or Contemporary invitations, it is important to assure that the wedding style is well represented in both style and wording.