Wedding Planning Calendar
The question has been "popped"!  Now what?  There are so many details to remember and plan.  Use the wedding planning calendar below as a guide to plan your Perfect Day.
9-12 Months Before the Wedding:
Congratulations!  You're engaged!
*Set a budget
*Choose your wedding date, & what type of wedding you want (traditional/modern, church/outdoors, etc)
*Include your engagement announcement in the local newspaper
*Start looking and book the venue(s) for your wedding and reception
*Book a caterer
*Choose an officiate for your wedding (your pastor, ordained minister, etc)
*Decide how many you wish to invite, and start working on the guest list
*Find a hotel/motel to provide rooms for out-of-town guests.
*Determine if you want a band or DJ.  Book acts early, as they generally fill up quickly.
*Begin looking at bridal gowns, bridesmaid dresses, grooms tuxedo, and groomsmen formal wear
*Compare local photographers, videographers, cake decorators, and florists.  Make appointments with each to see their work and see if they are a good fit for you and your budget.
*Visit bridal shows and start creating a wedding registry (don't forget to get the input of the husband-to-be!)
*Marital counseling.  Many pastors will not marry a couple without it.
6-9 Months Before the Wedding:
Time to start narrowing down those details!
*Begin to compile your second draft of your guest list
*Choose your maid of honor, best man, and other attendants
*Shop!  Time to buy the wedding dress of your dreams! Oh, and the guys will need something to wear too.  Don't forget the accessories either – headpiece/veil, jewelry, shoes.
*Start planning the honeymoon!  A quiet mountainside cabin?  Explore Ireland?  The world is yours to research.
*Reserve your florist, and order the wedding cake.
*The groom's parents should begin making arrangements for the Rehearsal Dinner.
*Transportation arrangements should be made (Limousine? Horse & Buggy? The Old Jalopy ?)
4-6 Months Before the Wedding:
You're halfway there!
*Check with your state for marriage license and blood test requirements.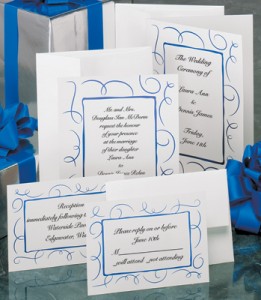 *Shop for wedding rings
*Select your wedding invitations, reception/response cards, and wedding programs
*Finalize the guest list, and send "Save the Date" cards
*Select the dress for the reception/departure if you do not wish to wear the wedding gown
*Have the mother's start looking for their dresses.  The color of their dress will many times coordinate with the color scheme of the wedding.
*Make honeymoon reservations
2-4 Months Before the Wedding:
Getting closer!
*Select or confirm your reception menu with your caterer.
*Print maps/directions for the ceremony and reception venues to place in with your invitation
*Choose your wedding rings
*Be sure to find a guest book, or another way to let your guests leave their sincerest wishes for you (like a photo frame and mat the guests can sign that will hold your wedding picture.)
*Set your rehearsal date so that all participants will be sure to attend.  Plan the rehearsal dinner, and choose the time and place where it will be held.
*Plan the parties!  If you're going to have a bachelor/bachelorette/engagement party, it's time to start planning
*Finalize the photographer, videographer, musicians, florist, cake decorator, etc.  Once decided, be sure to get contracts from every professional you work with.
6-8 Weeks Before the Wedding:
It's coming together!
*Mail the invitations
*Set appointments with hairdresser/makeup consultants
*Hire your form of transportation to/from the wedding venue/reception hall/departure
*Prepare a wedding announcement for the local newspaper
*Purchase gifts for all of your wedding attendants, and the groom (or bride).
4-6 Weeks Before the Wedding:
So close!
*Estimate the number of guests attending your reception, and finalize your menu.  Plan the seating arrangements, and begin to write the place cards.
*Set up a final fitting for your gown
*Pick up your wedding rings
*Don't forget the details!  Select your ring bearer's pillow, flower girl basket, garter bell, candles, goblets, etc.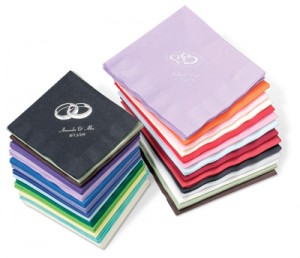 *Select your reception accessories, such as personalized napkins and wedding favors like post-it notes, or candy bars
*Be sure all of the bridesmaids' and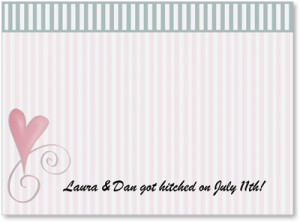 groomsmens' attire has been fitted
*Select the music.  You'll have the ceremony, first dance, parent's dance, and the reception to consider.  Give your choices to the musicians.
2-4 Weeks Before the Wedding:
Time to finalize!
*Decide who will be taking care of the wedding gifts, and how they will arrive at your home
*Start the legal details – name change, address change, etc.
*Confirm the details – clothing and accessories ready, guests accommodations set, etc.
*Obtain your marriage license and any required blood tests.
1 Week Before the Wedding:
The butterflies are coming!
*Finalize seating arrangements, and review details with ushers
*Reconfirm honeymoon reservations, and start packing!
*Review any final details or changes with the photographer, videographer, musician, etc.
*Give the final head count to the caterer.
*Choose responsible parties for specific tasks during the ceremony/reception
*Present your wedding party with their gifts, or give out during the rehearsal dinner
*Finalize rehearsal dinner plans
1 Day Before the Wedding:
You're Almost There!
*Relax!  Get a manicure, massage, stay with family the night before and get to sleep early!
*Rehearsal dinner
The Wedding Day:
It's Here!
*Rest and relax – take a bath, read a book, etc.
*Allow plenty of time to get dressed.
*Hair and makeup
*Eat right
*Make sure the maid of honor and best man sign the wedding certificate