Table Tent for Informal Occasions? You Bet!
Seasonal & Special Events Ideas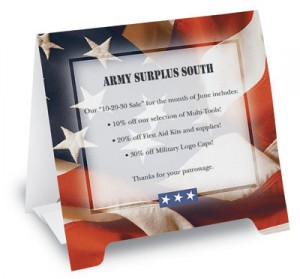 Ordinarily you expect to see table tents at restaurants selling beverages, suggestively selling entrees or even pushing desserts. You may even see them at formal dinner parties so guests can select entrees and beverages to be served. You wouldn't think of using table tent cards for a backyard BBQ or a Super bowl party, but there are times when the table tents can be used in a lot of creative ways in informal situations.
Here are a few informal parties where table tent can make an impact:
Wedding showers are good places for them, especially if there are a lot of guests. The bride and groom's name can be on it plus the time and date of the wedding plus the wedding theme. Also, gift registry information can be put on it as well
Baby showers are also good. If the sex of the baby is know, it can be put on their plus gift registry info
Church gatherings and socials can use the table tents to designate tables or to express the theme for the gathering.
Block parties can use table tent to show the theme. It can also "name" the table so people can gather at a specific table to talk and socialize
PTO dinners at school and other fund raising dinners can use the table tents as theme setters, to divide tables up by classes or as schedules for events to take place during the evening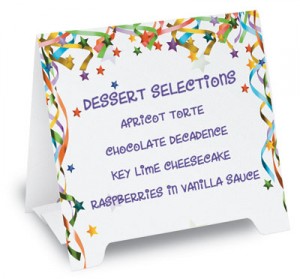 If you sit down and take a look at other informal events and parties, you can probably find dozens of ways to use table tent cards. The great thing is you can get blank card stock and print your own. This saves a ton of money and time because you don't have to farm the job out to a print company and wait for them to finish. There are templates for card stock available for your favorite word processor which makes laying out the perfect card for your party or event a breeze.
Another great thing about printing your own is you can print the cards for any event. And you can print as few or as many as you need. You can even print more if you discover more people are going to show up than originally anticipated without having to go to a lot of trouble to do so. Table tent have a lot of great uses for informal occasions and printing your own can make the occasion totally awesome.