Stand out: Create a Unique Wedding Program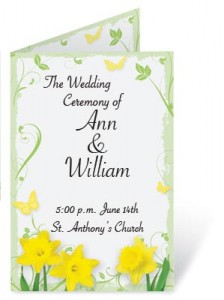 When it comes to weddings, you want everything to be perfect. Not only that, but you want it to be unique as well. You don't want your wedding to be like your friend's wedding or like your sister's wedding either. So finding ways to make your wedding stand out from the rest takes special planning. All details have to be taken into account and that includes creating a unique wedding program as well.
You'll want the theme for your wedding to be what interests you, but is still different from whoever else is or has had a wedding around you. You can accomplish this with flower colors, the colors of the dresses for the bridesmaids, and even the decorations for the shower and the reception. By using wedding banners, plates, napkins and table cloths based on the theme, it helps to implant the theme concept in all the guests' minds. And by using streamers and other colored paper and candles on tables, the color theme can be pulled through the entire wedding process.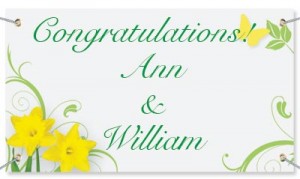 And a key element of the wedding process is the wedding program. This is the "sequence of events" from the time the guests walk in the door. Having the program match the theme with graphics and colors means it too carries the theme through. This means every part of your wedding will match and have the overall effect you're going for.  The wedding program may not seem like a big part of the overall wedding, but it is the part that the guests will have in their hands the most, and quite likely the one part that the guests will keep as a memento of the occasion.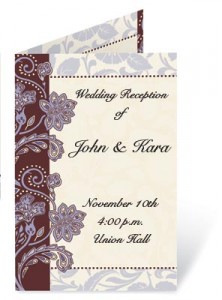 With great blank programs and templates you can download, you can design it exactly the way you want it. Not only that, but instead of having to order a bunch of them from a print house, you can print off exactly how many you need. This saves you money since you're not buying more than you need and it saves you time because you don't have to deal back and forth with the print house making sure the wording is right and that the proofs look good before having them printed. That process can take weeks when you can create your own in just a couple of hours.
You'll be amazed at all the great blank designs available and will be able to get one that'll work perfectly with whatever theme you have for your wedding. Save time, save money and get exactly the wedding programs you want. Your wedding will be that perfectly amazing occasion you've dreamed about.