Wedding Menu Design Ideas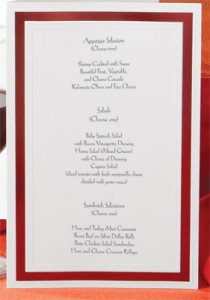 You want your wedding reception to be just as impressive and thematically connected to the rest of your wedding. As a part of the planning process, you've sent invitations with RSVP cards, had the showers, done the parties and on your big day, had the perfect wedding program and ceremony. You want to be able to carry all of that momentum through the reception and having great wedding menu design ideas to make sure everything matches and plays its role is just as important as the invitations you sent.
A menu may not seem like it is a big deal, but you put a lot of thought and care in your invitations and wedding programs since you know everyone is going to see them and in many cases, keep them. Menus will also be handled and looked closely at by everyone who attends the reception, so taking just as much care with the wedding menu ideas is essential. Here are a few ideas you'll want to consider when laying out your menu design.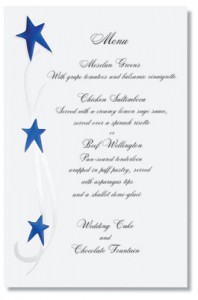 –    Keep the wedding menu paper color and font the same as you used for the programs and invitations. This will dovetail the menu thematically with the rest of the wedding process.
–    Have the name of the bride and groom at the very top of the menu.
–    Separate the different sections of the menu with widgets so it is visually easy to see the different sections. For instance, having the appetizer section visually separated from the entrée prevents confusion when guests are ordering.
–    Make sure you've taken any dietary considerations into account. Have gluten and lactose free items  on the menu not only adds variety, but shows a lot of consideration for guests' needs as well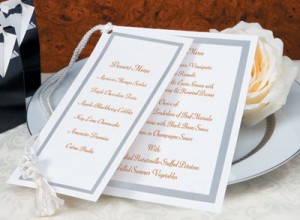 –    Have healthy options as well as 'regular' food available to order so those on a diet won't feel pressured to eat the wrong foods.
If you take a look at menu examples from other weddings, you'll be able to find more wedding menu design ideas as well. Your goal is to ensure that the guests are taken care of as well as keeping the theme of your wedding intact. With a well designed menu, not only will you accomplish those goals, but you'll make the reception just as memorable as the ceremony itself.