Bridal Shower Activities Everyone Will Enjoy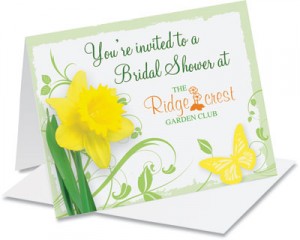 We think one of the most important aspects of hosting a fun wedding shower is having activities and games everyone will enjoy. There is nothing worse than a silly bridal shower game that bores your guests to tears. Here are some bridal shower activities we're sure everyone will enjoy:
Bride and Groom Trivia–Questions can be as innocent or as racy as you like–depending on how well you know the bride and groom and how comfortable you are with the questions. Guest with most correct answers wins.
The "What She Will Say On Her Wedding Night Game." Guests record the bride's verbal reactions as she opens gifts.  You explain to her that you will be reading out some of the comments she may make on her wedding night. "Wow, this is beautiful," "What do I do with this?" "How do you use it?" "I love the color!" "It fits perfectly!" may be some of the hilarious comments the bride-to-be makes.
Recipe share. Include a blank recipe card with each shower invitation and ask the recipient to include her favorite recipe and bring it with her to the shower.
Videotape a memory for the bride and groom–always a favorite bridal shower activity. Simply set up a video recorder on a tripod with directions  in a separate room (don't tell the bride about it), and ask each guest to go into the room and share their fondest memory of the bride and groom. At the end of the shower, present the tape to the bride. She and the groom will cherish it forever.
PaperDirect wants you to be the hostess with the mostess. Check out our entire  line of bridal shower invitations and wedding note cards.