What to Include in a Wedding Program: 4 Quick Tips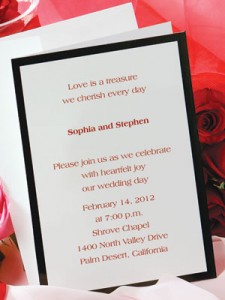 Wondering what to include in a wedding program? If you're getting married, you have a million tasks to accomplish and may be feeling a little (or a lot) overwhelmed. Of course, what you include in your wedding program will vary from what someone else may have, but there is some general information common to all wedding programs.
Here are the four primary elements we recommend including in your wedding program:
Names of bride, groom and location of wedding ceremony, which generally goes at the top of the front or the first panel of your wedding program.
Order of ceremony's events, which could be as simple as a list of the ceremony's elements or so detailed that it includes all the readings, song titles, who is reading and singing and even the text of the reading and song lyrics.
The names of the wedding party. You should give credit to everyone who helped with the ceremony but some people frown on listing paid vendors like florists and photographers. You must list the officiant, however. Traditional etiquette calls for using the full names and titles of anyone you list in your wedding program.
A closing. Many brides include a closing at the end of the wedding program–a personal note of thanks to their guests. Some wedding programs may have a dedication to someone who has passed away.
With these tips, you should no longer be wondering what to include in a wedding program – enjoy your planning!!!
PaperDirect can help you with all your do-it-yourself wedding needs including invitations, place cards, wedding napkins, wedding note cards, and  all types of wedding accessories.