Fall Wedding Cake Ideas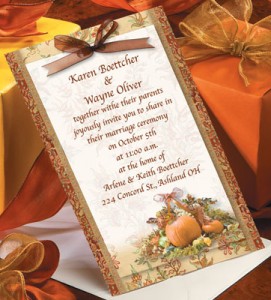 Fall wedding cakes can be just as beautiful and delicious as their summer counterparts. With so many vibrant fall colors to choose from, you can have a stunning cake that will not only wow your guests but will taste yummy, too! The broad color spectrum of fall foliage allows for lots of creative possibilities. Here are just a few fall wedding cake ideas to get your creative juices flowing:
Use fruit to adorn the tiers of your fall wedding cake
Accent the cake with seasonal items such as leaves and other flowers (mums and hydrangea, for instance)
Use a fall flavor for your cake (pumpkin, spice or red velvet, for instance)
Mold fondant in the shape of leaves
Mold fondant in the shape of nuts
Fall flowers made of icing
Earth tones for icing and cake decorations
Airbrush the cake with autumn leaves
Garnish the wedding cake with red/orange apples and flowers
The wedding cake is the delicious ending to your beautiful wedding, and fall brides have many options when deciding on fall wedding cake ideas. While traditional white wedding cake is most popular, more and more couples are getting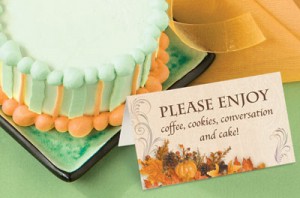 creative with their fall wedding cakes and adding splashes of robust color and fall flavors to make their wedding cake truly breathtaking and delicious!
Please visit PaperDirect for our full line of Fall invitations and Fall place cards.