Planning a Fall Wedding? Avoid The Pitfalls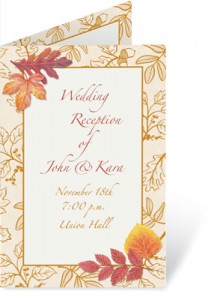 Scenic foliage, crisp autumn air, the excitement of the holiday season just around the corner. Sounds like the perfect time for a wedding doesn't it? Though it may seem as though fall is the perfect season for a wedding–not too hot and not too cold–there are some potential drawbacks to an autumn wedding. Here are some common pitfalls to consider if you are planning a fall wedding:
Unpredictable weather–you should have a back-up venue just in case your beautiful outdoor wedding is hit by harsher temperatures than expected, strong rain, or high winds. Consider having your fall wedding at a venue that has both indoor and outdoor accommodations. You can put up tents and other temporary structures to shield you and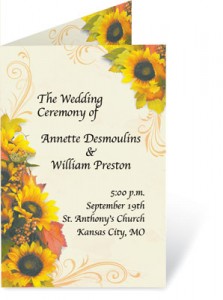 your guests from rain, snow and wind. If you don't have cover, then you must, at least, hand out umbrellas and blankets.
Busy time of year–weekends in fall can be quite busy for many of your guests as the holiday season is soon approaching.  In some football fanatic areas, a weekend wedding may be met with some derision. Fall includes high holidays for the Jewish faith, at which time Saturdays are off-limits. Late September and early October weddings will probably suit the schedules of most of your guests.
Off-season wedding costs–planning a fall wedding will typically mean incurring additional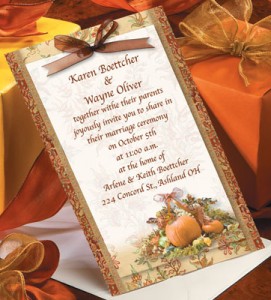 costs for flowers that are out of season. Roses will be very expensive out of season, but there are many in-season gorgeous flowers to choose from for your fall wedding. Chrysanthemum and asters are beautiful at this time of year.
Planning a fall wedding? While this a beautiful time of year and many people's favorite season, be sure you plan carefully and avoid the fall wedding pitfalls mentioned here.
PaperDirect is your fall wedding destination. Please view our entire line of wedding invitations and wedding programs today!