The Truth About Fall Wedding Myths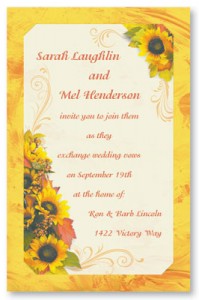 Brides and grooms-to-be take note: As you plan your wedding, all of the wedding experts will come out of the woodwork to tell you how you should plan your wedding. What you must keep in mind is that there are lots of fall wedding myths out there, but we're here to dispel those myths.  Here is the truth about those fall wedding myths you may have been hearing.
Fall Wedding Myth #1:  You must have a fall foliage wedding color scheme.
Truth:  There is no "law" that dictates you must use orange, red, yellow and earth tones in your fall wedding. If you have your heart set on brown, try mocha or cappuccino hues rather than the very common chocolate. Mocha and cappuccino combine nicely with cream and black. You really can have any color you love as long your color is combined with a darker hue to create balance.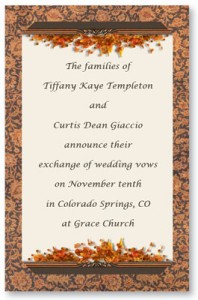 Fall Wedding Myth #2:  Pumpkins must be incorporated into your fall wedding.
Truth:  You do not have to decorate with pumpkins (or place them on guest tables). There are plenty of other decor elements you can use to decorate your fall wedding. It's harvest season, so any grains such as wheat add atmosphere.
Fall Wedding Myth #3:  Men must wear dark-colored tuxedos or suits.
Truth: In a fall wedding, men are not obligated to wear dark attire only. Light khaki suits that have an earthy look would work nicely. If the weather is warm, you can even skip the jackets and go with a more causal look of button-down shirts and khaki pants.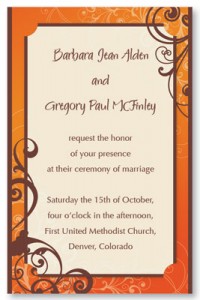 Fall Wedding Myth #4:  The bridesmaids must wear heavy fabrics such as satin.
False!! (and bridesmaids everywhere are jumping for joy). Just because it's autumn, you shouldn't feel as though you must outfit your bridesmaids in heavy fabric. It's much more important that your bridesmaids wear dresses that fit them well and flatter their figures than they wear a heavy fabric.
Please view PaperDirect's full line of wedding invitations.