5 Fall Wedding Flower Ideas
Fall is a wonderful time to a have your wedding. Beautiful foliage, crisp cool temperatures and the holiday season soon approaching. If you are planning a September or October wedding, your wedding colors probably match the colors of the season: vibrant oranges, red, greens, and even yellows.
While roses and many other flowers commonly used in weddings are out of season in autumn, there are many gorgeous flowers in season. Here are 5 fall wedding flower ideas for you Autumn brides:
Dahlias are in season and come in a range of colors from yellow to bright red. Originally from Mexico, Dahlias are now grown around the world. They make a great addition to centerpieces and arrangements.
Chrysanthemums are available year-round but their actual season is autumn. They come in a wide variety of colors perfect for fall and have a long vase life.
Kniphofia (red hot pokers) come in vibrant reds and yellows to accent any fall wedding flower arrangement or centerpiece.
Lilies vary in size depending on the variety but most lilies produce three outer and three inner petals, and the interior colors can be plain, spotted, splashed or lines. The majority of lilies come in white, cream, yellow, orange and red.
Orchids are considered by some to be the most spectacular of all flowering plants and come in an endless variety of colors, shapes and sizes. They are also extremely fragrant and smell like coconut or chocolate. A great addition to any fall wedding.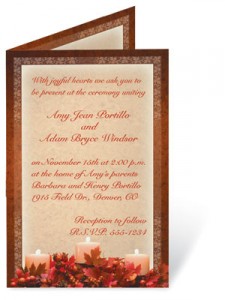 Use these fall wedding flower ideas to make your autumn wedding beautiful!
Please visit PaperDirect for our full line of Fall programs.