Beach Wedding Theme Checklist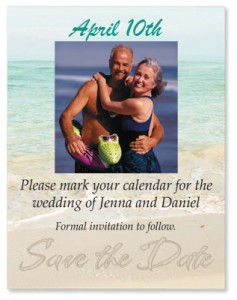 If you are planning a beach-themed wedding, there are many things to keep in mind as you make your wedding plans. First of all, your comfort should be at the very top of your list of priorities. Your options for beach wedding dresses and gowns are numerous, and you want to think light, breezy and cool for your beautiful beach wedding dress. The style of the wedding dress or gown you choose depends on the style of the beach wedding you are planning. Here are some suggestions:
Sarongs and pareos (Tahitian word for "wraparound skirt") are perfect for informal beach party weddings and Caribbean-themed weddings. With their simplicity and beautifully vibrant colors, they will accentuate the fun, carefree atmosphere of your beach-themed wedding.
Hawaiian style dresses and gowns are cool and delicate and are perfect for the tropical wedding on the sandy beautiful beach. Your guests will enjoy dressing in Hawaiian attire, too.
Destination wedding dresses are simple and less formal than traditional wedding gowns. Made from lighter fabric, they are easy to pack and travel with and are ideal for semi-formal to formal weddings. Destination wedding dresses offer affordable elegance with just the right special details. With lace-up backs to luxury lace wedding dresses, these dresses create a simple yet elegant mood that will make your special day one no one will ever forget. Lightweight fabrics like silk and charmeuse are ideal  for beach wedding dresses or for any bride who prefers a sleek, unique style.
Next on your beach wedding theme checklist should be invitations. Keep in mind that you want the style of the invitation to match the event. A formal wedding invitation may not really fit into your Hawaiian themed wedding, so keep your invitations lighthearted and simple.
Choosing your wedding flowers for your beach wedding should be fun. With so many vibrant colors and different styles and shapes to choose from, you will have an absolute blast at the florist choosing your favorites. Be sure to make a checklist of all the wedding flowers you will need for you beach wedding such as the bridal bouquet, the bridesmaid's bouquets, the flower girls' bouquets, the groom's boutonniere, corsages for mothers and grandmothers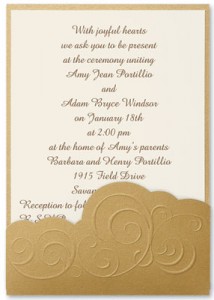 and boutonnieres for fathers and grandfathers.
A beach theme wedding cake can be any size, shape or description. Be creative. If you have an idea for your cake, sketch it out on paper and take it to that talented friend, relative or your favorite bakery. But since your reception may be on the beach, consider the heat from the sun if it's a midday wedding. You certainly don't want your beautiful wedding cake to melt.
Visit PaperDirect's online store for wedding invitations, wedding place cards and wedding thank you notes.