4 Creative Wedding Shower Ideas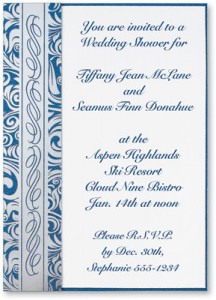 If you are hosting a friend or family member's wedding shower, you may be looking for creative wedding shower ideas that will make your shower stand out from the rest. As long as there is delicious food, awesome gifts and pampered guests, your wedding shower will be a hit, but if you're looking to make things a bit more interesting, try these creative wedding shower ideas:
Spa/day of beauty wedding shower–Holding a bridal shower at a day spa is the greatest gift you can give the bride and your guests. While this can be pricey, a day of beauty at a wonderful spa will be remembered by all as maybe the best wedding shower of all time!
Co-ed wedding shower. While this may not be the most original idea, it's one that's not used all too often. You would be surprised at the number of men that feel left out when their bride gets to attend the shower and he doesn't. It's 2011! Go ahead and invite the men! Let your guests know that the groom will be in attendance, and gifts can be given that will benefit both the bride and groom. Also, think of the single ladies when inviting the male guests. Maybe you can be wedding shower host and matchmaker all in one day!
Activity-themed shower. Why not hold the bridal shower at a quaint little ski resort or beach house? You can make a day at the beach or an afternoon on the slopes part of the fun. Be sure to include some type of wind down/relaxation activity for the end of the active part of the wedding shower. Maybe a soak in the hot tub or showers and fresh clothes provided by the owner of the beach house.
Wine-tasting wedding shower. You can throw a great wedding shower and provide your guests a wine-tasting education at the same time. You can have a sommelier (wine steward) to bring various wines (and foods) and explain to the bride and guests what foods and wines make good pairings and what wines should be avoided with certain foods. For the tee-totalers in the crowd, be sure to offer an alternative to the wine tasting, or make it clear in the invitation wording that there will be wine tasting at the wedding shower.
PaperDirect is your online source for wedding shower tips and everything you need from invitations to place cards.