Announce Your Fall Event with a Festive Brochure
Designing Your Business Communication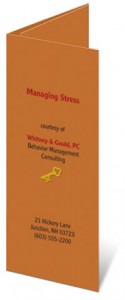 A lot of people say that fall is their favorite season of the year and cite the crispness in the air, the cool temperatures, the approaching holidays, Halloween, and the vibrant autumn foliage as the main reasons they love autumn. With fall, also comes a number of holidays, school events, and sports activities. If you need to spread the word about an upcoming fall event, create (or have a professional create) a festive fall brochure that will make all invitees excited to attend!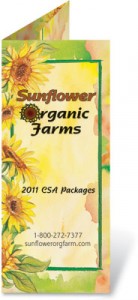 If you consider yourself "creatively challenged," you may need some creative brochure ideas and information about how to create a brochure announcing your fall event. PaperDirect has all the information and products you'll need to announce your fall event and what better way to get the ball rolling than to read about creative brochure ideas that other people have come up with to announce their fall event? Here, we will discuss some brochure ideas perfect to announce upcoming events such as:
Beginning-of-the-school-year festivals and parties
Football games and tailgating parties
Halloween parties
Pumpkin patches/harvest festivals/hayrides
Baseball (World Series) events and parties
Thanksgiving dinner parties
Food, clothing and toy drives for the holidays
Service-related activities such as volunteering at homeless shelters and food kitchens
Christmas/Hanukkah activities
No matter what fall event you are hosting or announcing, you can create a brochure with the colors and images of the fall season and include all pertinent information, so your guests know what the event is, where and when it is being held, why it's being held, proper attire, whether gifts are expected, and any other information that may be necessary.
Brochures known as "three panel brochures" are probably the most common type of brochure people use as they fold nicely and are easy to distribute to a large number of people in a short amount of time. You can hand them out physically in highly trafficked areas, place them in store windows or on counters, pass them out at church and school (with permission, of course) and you can even mail them.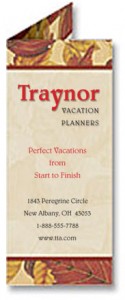 Fall Brochures–Vibrant Colors and Seasonal Pictures
Autumn brochures can be designed using vibrant fall colors such as bright oranges, reds, yellows, golds, and various shades of brown. Images of leaves, pumpkins, corn, gourds, nuts, snow, Christmas trees, holly, mistletoe, Santa, Frosty, and elves can be used on the fall brochure, depending, of course, on the event that is being announced.
Regardless of the event you are promoting, a creative, appealing brochure must be clear and attractive to the intended audience. Think of the brochures that you kept from an event you attended or a place you wanted to go. You may not even be sure of what, specifically, attracted you to that particular brochure, but it was memorable for some reason. You, too, want to create a brochure that will entice people to attend your event. With an eye-catching design and content that is succinct and informative, your fall brochure will be a huge hit and will ensure a packed house at whatever fall event you're hosting!