Preparing the Perfect Thanksgiving Table Setting
Seasonal & Special Events Ideas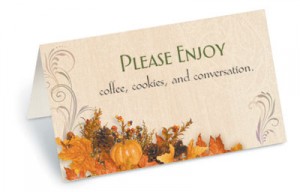 Who doesn't love Thanksgiving? Even more, who doesn't love Thanksgiving dinner surrounded by loved ones and friends? If you are hosting a Thanksgiving dinner this year, you may be a bundle of nerves, especially if it's your first time hosting the most important meal of the year (no pressure though!). Successfully hosting any dinner party is all about preparation. The more you prepare ahead of time, the less you have to worry about the day of the big party. If you are not a mini-Martha Stewart, here are some tips to help you set the perfect Thanksgiving table.
Even if you have little or no Thanksgiving dinner experience, you can create an inviting and sophisticated table without breaking the bank. Some candles, decorative paper, ribbons, flowers and Thanksgiving place cards just may be all you need for the perfect Thanksgiving table setting.
While grocery shopping, pick up some colorful gourds (pumpkins, squash, etc.) and arrange them around your living room and dining room table. You may try placing votive candles around the gourds for an extra special touch. If you super daring, you can cut out the middle of the gourd and create a flat bottom; place a votive candle in the guard with an opening at the top of the gourd for the smoke and heat to escape.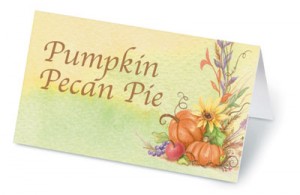 Use natural elements from your own backyard or local park to set the seasonal tone for your Thanksgiving dinner party. Collect twigs and brightly colored leaves, scrub the twigs gently, and place them along the length of the table, as you would a table runner. For a more casual look, leave them untied and bare. For a more elegant, sophisticated table, tie them together at each end to form a bundle, and then weave the leaves and ribbons in complementary colors in and out of the twigs. You can also fill a vase with water, place a few twigs in the vase and add cranberries, which will float to the top. Make sure the cranberries are uncooked!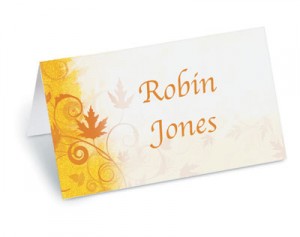 Mason jars with a thick ribbon tied around their center make elegant table decorations. Choose a ribbon of a bright fall color such as yellow, red or orange. Fill the  mason jar with water, some cranberries, and a floating candle. You can also place pine cones around the table for an Autumn look.
PaperDirect is your online source for fall party invitations and decorations.