How to Make Perfect Graduation Invitations
Seasonal & Special Events Ideas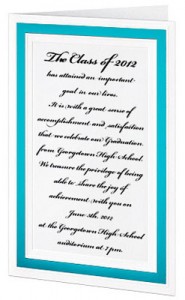 Graduating from high school or college is one of the most amazing times in a person's life. There's the excitement of the occasion, the deeply satisfying feeling of accomplishment and the thrill of the unknown future all mixed together, creating a blend of emotions that are difficult to fathom at times. While it's an exciting time for the graduate, friends and family share in the moment as well, and want to be a part of the ceremony and celebration if possible. By sending out great graduation invitations, you'll be able to inform all your friends and family of the happy occasion.
Making those perfect graduation invitations isn't a difficult prospect. By selecting a great invitation blank and downloading the associated template for your word processor, the hard part is basically done. The other part is to word the invitation to give your invitees the information they need so they can attend. Here are some sample graduation invitations you can use for ideas: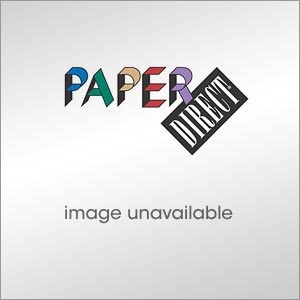 –          The Class of 2012 has attained an important goal in our lives. It is with a great sense of accomplishment
and satisfaction that we celebrate our Graduation from Georgetown High School. We treasure the privilege of being able to share the joy of achievement with you on June 5th, 2012 at the Georgetown High School auditorium at 7 pm.
–          Mr. and Mrs. John Smith are proud to announce the Graduation of John Smith, Jr. from Georgetown High School. They invite you to share their happiness at Commencement Ceremonies on June 5th, 2012 at 7pm at the Georgetown High School auditorium.
–          With great pride, I John Smith, Jr., announce my Graduation from Stanford University. Please help celebrate my achievement and witness my passage at Commencement Exercises on June 5th, 2012 at 7pm at the Stanford University Amphitheater.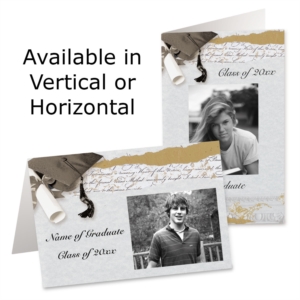 There are literally thousands of ways you can word invitations from basic to the prosaic. However you choose to lay it out and word it, being able to get the information to friends and family of the occasion, the location, date and time means they'll be able to join you at such an auspicious occasion as graduation. Being able to control every aspect of the invitation means you can create the perfect graduation invitation you want instead of having to settle for a mundane stereotypical invitation from a print company. Graduation is a time of excitement for the future and reflection on the past and being able to share that memory with friends and family is priceless.