Birthday Party Tips for Baby's First Birthday
Seasonal & Special Events Ideas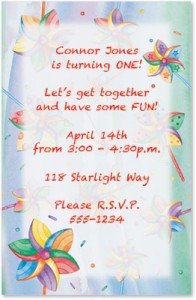 One of the most memorable events of a young couple's life is their baby's first birthday party, so if you're getting ready to plan your little one's first birthday party, you may need some birthday party tips for kids' parties. While many young parents have visions of throwing an elaborate party that will be unforgettable for all those who attend (except, probably, for the guest of honor and all of her one-year-old guests), you must keep in mind that because your baby is only one year old, he may not be able to handle all the excitement you have planned. As much as you want to make this day unforgettable, you have to keep your guests' comfort in mind as you plan. PaperDirect offers these birthday party tips for your little one's big day:

Keep the guest list fairly small. You can invite just a few relatives, friends and their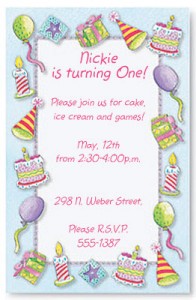 kids, and grandparents. Most party planning experts recommend no more than five kids (accompanied by a parent) at a baby' first birthday party, but if you feel you can handle a larger crowd (and have plenty of help to do so), then, of course, feel free to invite as many little guys and gals as you like. Just remember that huge crowds may overwhelm the guest of honor.
Choose a baby-friendly venue. Your backyard or a local, familiar park is ideal so the kids can crawl and toddle around in the grass, and when things get spilled, no one will care since you're in the great outdoors. But if you don't want to gamble on the weather, or if you're looking for a place away from home, you may want to consider fun places like a family-entertainment activity center, a kid-oriented gym, a kid-oriented pizza place, or even your own daycare center. These places are familiar to your child, and the staff at these locations know how to entertain children.
Pick a time for the party that matches your baby's schedule. The best time of day for a party is when your child is most alert and calm–usually in the morning after a nap. Most experts say that 1.5 hours is long enough for a child's first birthday party. Long parties and those held late in the afternoon or in the evening will find all the young guests low on energy, patience and attention.
Don't go overboard with the entertainment. Loud music, performances and other types of shows may scare your child and his guests. Keep the activities fun but not too loud and rambunctious as your little guests will be scared if too much is going on at once. Here are some ideas for appropriate "entertainment" for a one-year-old's birthday party: a short sing- and clap-along session with some of your child's favorite songs and other age appropriate games. For a backyard party, supply push toys, tents, or tunnels, and if possible, a sandbox or digging area. Indoors, create a safe play area by removing breakable, dangerous items and setting out plenty of toys appropriate for the age group.
Offer food that caters to kids. For a morning party, the only food you'll really need will be the cake and some juice. If you're scheduling close to lunchtime, you can offer nutritious finger foods such as fruit slices, bread sticks, bite-sized treats and maybe some cooked pasta. Avoid any foods that may present a choking hazard, and of course, find out about any food allergies your young guests may have ahead of time.
Avoid opening presents during the party. Many experts say that opening gifts often turns into a grabbing "free for all," and that it's best to put the gifts out of sight and explain that they'll be opened later.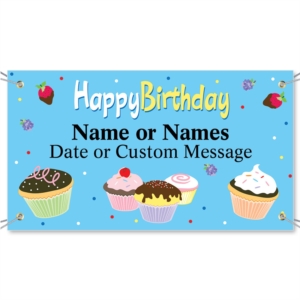 Take plenty of pictures and video, so you can look back on one of the most important milestones in your child's life. Not only will you, the parents, be able to relive your baby's first birthday, but with pictures and video, this wondrous occasion will be preserved for generations to come. Imagine what it will feel like when you and your child watch this video with your grandchildren. Years later, when it comes time to watch this special event with family and friends, the effort will have been well worth it.
PaperDirect has an extensive line of party supplies including banners, invitations, place cards and thank you notes. Shop online and get everything you need at our one-stop online party shopping headquarters.