Event Planning Tips for the Beginner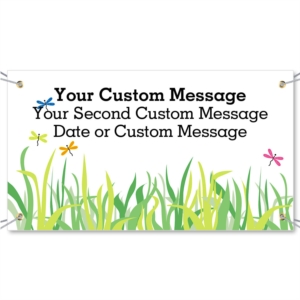 With Spring right around the corner, you may be thinking about hosting an outdoor event to kick off the beginning of warmer temperatures, longer days and spring breaks from school. PaperDirect often provides event planning tips and party suggestions to get your creative juices flowing, but today, let's focus on the novice event planner and offer some event planning tips for those who may be hosting their first event.
Here are some event planning tips for a fun and memorable spring party your guests will enjoy immensely:
Plan your great spring party by deciding, first of all, how much you are able to spend on the event.  Create a budget and try to stick to it.
Create a guest list and send out invitations approximately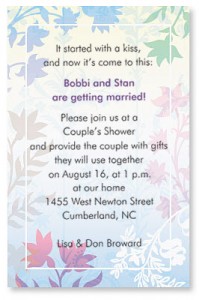 2-3 weeks prior to the event. E-vites are a convenient way to send out invitations, and with e-vites, people usually respond fairly quickly so you can get an accurate idea of how many people will attend. There are several websites that allow you send out e-vites free of charge. Once you know how many people are going to actually attend, check your budget to make sure you have calculated costs correctly and will have enough to spend for food and drinks for your guests
If you can afford to have it catered, that is one very popular option as it allows you to focus your energy on other aspects of the party (and you can relax and not have to cook for several days prior to the event). You can also ask guests to bring a dish (potluck), which also minimizes how much cooking you have to do. The third option is for you to prepare all the food yourself, and in this case, you want to do as much as you can ahead of time so you're not overwhelmed the day of the party. Prepare dishes that can be made in advance and also keep in mind food safety issues like how long mayonnaise-based items can sit without refrigeration. Nothing spoils a good party more than food poisoning.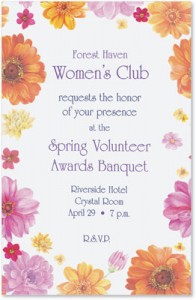 When choosing your menu, think of "springy" types of foods and consider what the temperature will be that day. You don't want to offer a lot of hot food items like soups and stews if it's going be a hot day. You also must keep in mind that many people are vegetarians (or vegans) and others have strict nutritional requirements and allergies. Provide vegetarian dishes and gluten-free foods so all guests can find something to enjoy.
When it comes to beverages, be sure to have non-alcoholic offerings for those who don't drink or cannot drink because they're driving. If you do offer alcohol, nonchalantly monitor alcohol intake and make a mental note of who may need to be driven home. You can be held legally responsible if you host a party and someone is injured or killed driving drunk from your home. Provide designated drivers, if necessary, or call the intoxicated guest a cab. Offer a variety of drinks, and if kids are attending, be sure to have sugar-free drinks available for the children not allowed to consume sugar. Kids love punch, so you may want to consider some delicious punch recipes that kids (and some parents) will enjoy. Just make sure no one spikes the wrong punch bowl!
When it comes to decorations, keep the season in mind. Spring parties can be decorated in bright, floral colors and pastels such as pinks, light blues, yellows, shades of red and orange and the like. Fresh flowers make a beautiful addition to any spring party.
Provide music that will appeal to most people's tastes and keep the volume low enough so that people can carry on a conversation without having to raise their voices. Choose a nice mix of fast and slow music, and provide a dance area, if possible, for your more adventurous guests.
Make sure your bathrooms are neat and well-stocked, and be sure to strategically place trash bins so your guests don't have to hold onto dirty plates and cups.
Read more blogs offering event planning tips:
PaperDirect is your one-stop online shopping source for invitations, banners, and even save the date magnets.