Is It Wrong to Email Wedding Thank You Cards?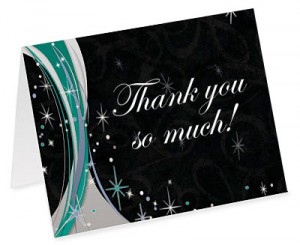 In a sentence–Yes, it's wrong to email wedding thank you cards. If your guest took the time to buy you a wedding gift, you must send a handwritten wedding thank you card. Simply put, an email to say "thank you" will not suffice. We often post blogs related to DIY (do-it-yourself weddings) and wedding etiquette, so the PaperDirect blog is a great place to get some common questions answered.
Many newlyweds wonder if the "rules" have changed regarding thank you notes in this era of everything-technological and social media. While many traditions have been affected by the change brought about by technology, common courtesies, like writing a thank you note for a wedding gift, have not.
Some other wedding thank you card etiquette do's and dont's: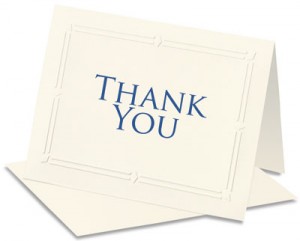 Do send thank you cards within 3-4 weeks of the ceremony–no more than six, if possible.
Do start writing thank you notes for the gifts you receive before the wedding as this will help you manage the number of cards you must write after the ceremony.
Do set a goal of writing "so many" thank you cards each day.
Don't let your new husband convince you it's your "job" to write the thank you notes–it's a shared task to send a word of thanks to those who gave you wedding gifts. After all, the gifts are for both of you, so why should only one of you do the work?
Do be specific in your thank you note by stating what the gift was and what it will be used for.
Don't mention amount of a cash gift in a wedding thank you card.
Do make sure the person you're thanking is the correct person for that particular gift.
Do check and recheck thank you card recipients' names and address spellings.
Do send thank you cards to vendors who helped make your special day extra nice.
Do address the thank you card to the person (or persons) who signed your gift card and include the names of family members who attended.
Do not use prepaid postage; hand stamping each thank you note is much more personal.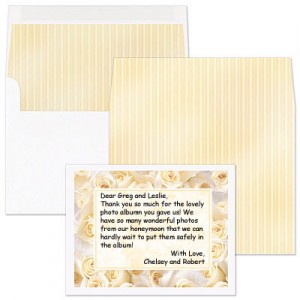 Learn more about wedding etiquette by reading these PaperDirect blogs:
Be sure to shop PaperDirect, your online source for everything you need for your DIY wedding including wedding invitations, wedding reception cards, wedding response cards, and wedding thank you notes.