Party Like a Rock Star with Cool Golf "Par Tee" Ideas
Seasonal & Special Events Ideas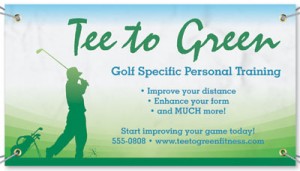 If you're a golfer or have a golfer in the family, you know that golf is serious business and that golfers often live, eat, breathe and sleep one thing: G O L F! Has your son or daughter recently won a school golf tournament? Did your husband place in a seniors event? Do you just want to get him out of the house and away from the Golf Channel for a few hours??? From baby showers to retirement parties, golf-themed parties are fun for everyone! This time of year is a great time to host a party on a golf course. If you'd like to throw a party for the golf lover in your family, here are some golf party ideas to get you started.
No golf theme party is complete without a backyard mini golf course. If you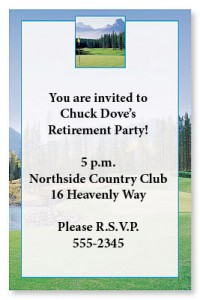 don't want to dig up your yard, you can improvise golf holes by turning plastic cups on their sides. You can use boards you have lying around, buckets, children's toys, traffic cones and anything else you have lying around to set up a putt putt golf course that's fun for all ages! Entertain younger ones by burying golf balls in the sand and challenging them to dig up as many as they can in one minute. Give out golf trophies to the best players or award certificates to those who participated. PaperDirect has everything you need to recognize the winners at your golf party!
If the party is at your home, you can set the scene with tons of golf party decorations such as golf themed banner, golf-themed napkins, plates and cups. Your invitations should be golf-themed and you can cut out pictures of anything related to golf in your favorite magazines. You can use these images to decorate the golf party venue.
Golf-themed movies like Caddyshack, Tin Cup, The Legend of Bagger Vance, and Happy Gilmore can be played throughout the party in one room, and guests can watch as they mill about and socialized. Younger guests will stay entertained for hours with these popular movies on the screen.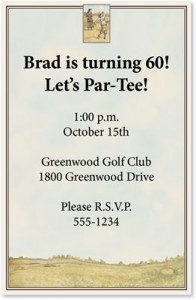 There are many puns that can be used for your golf party invitation wording. You can use the words "par" and "tee" when referring to the golf party, and you can offer "club sandwiches" and other refreshments like iced "tee." Golf party ideas are abundant and allow you to really go crazy with the theme of golf.
Order your golf invitations from PaperDirect–your one-stop online shopping source for golf parties and any other occasion you may be hosting! Read Golf Party Supplies and Ideas to get even more great golf party tips.