Unique Father's Day Party Ideas
Seasonal & Special Events Ideas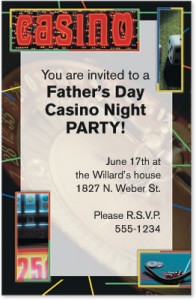 Father's Day has been a holiday in many countries since the early 1900's, and most countries celebrate it on the third Sunday of June. Father's Day was first observed in Fairmont, West Virginia July 5, 1908 and was organized by a woman who wanted to commemorate the lives of 210 fathers who died in a mining disaster several months earlier. But it is Sonora Louise Smart of Spokane, Washington who is credited to with creating Father's Day as we know it today.  After a sermon about Mother's Day in 1909, she felt fathers deserved the same recognition, so with the support of her pastor, the YMCA and the ministerial Alliance, she attempted to get it nationally recognized. It was not until 1966, however, that President Lyndon B. Johnson designated the third Sunday in June as Father's Day. President Richard Nixon signed it into law in 1972.
It seems like Mother's Day gets a lot more attention than Father's Day, but in these times of stay-at-home Dads and single Dads raising children without any help, Fathers are starting to get the attention, respect and love they deserve on their special day.
Are you hosting a party for Father's Day this summer? If so, you may be looking for some unique Father's Day party ideas to honor the man who has been there for you through good times and bad over the last few decades.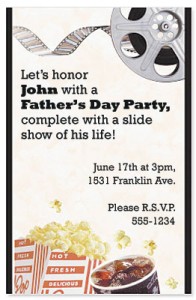 Party Like a Rock Star This Father's Day
Many Father's Day parties are held outdoors because in most areas of the country, June is a great month to have an outside party. But instead of just grilling out hamburgers and hot dogs, and giving Dad the same old gifts of cologne and ties, get creative this year.
If you're going to have the party outdoors, choose a location that your father will be happy about–his favorite park, golf course, mountain retreat, restaurant patio, etc. If you're handling the food and drinks yourself instead of hiring a caterer, have all your Dad's favorite foods on hand. If your dad loves beer, you can set up a beer sampling station with a variety of beer from around the world. This is a great conversation piece and will help everyone relax and feel festive.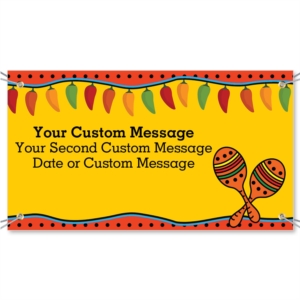 Set up photos of your Dad at various stages of his life to give guests a biography in pictures; this is especially fun for people who may be in the pictures. And it will give others who may not know your Dad so well a glimpse of who this man really is. Display memorabilia from your father's life with his kids such as cards you made him while in elementary school or crafts you made him on  Father's Day. What father doesn't have a homemade ashtray or coffee mug from his kids' grade school days? Play your Dad's favorite music throughout the course of the party. You can make a play list ahead of time and create party CD's for the big day.
When it comes to deciding on a theme for your party, while it's not necessary to have one, there are some really great theme ideas you can use for a Father's Day bash such as:
Casino night
Costume
Movie night
Murder mystery party
Mexican fiesta
Hollywood night
Toga party
Luau
Decade party (50's, 60's, etc.)
Why not take Dad on a surprise adventure–even just a day trip. You pack what he needs, you can give clues if you like, and make sure it's a destination he'll truly enjoy. Coupons for chores like "Good for one trip to the curb on trash day," or "One lawn mow" are always appreciated as is breakfast in bed or a lazy Sunday where he can enjoy his favorite sporting events without interruption. With Dads, it's often the little things that mean the most. How about a chilli cook-off with the neighborhood dads, or each Dad makes his "signature" dish and the kids (or impartial) judges name a grand champion!
No matter how you celebrate Father's Day this summer, PaperDirect is your one-stop online shopping source for many of the supplies you'll need. Invitations, thank you notes, place cards and banners can all be purchased without ever leaving your home!