DIY July Wedding? Tips to Beat the Heat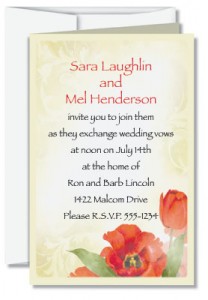 If you're planning a July wedding, you are probably worried about how you and your guests are going to handle the heat. Even if the wedding is indoors, you and your guests will have to spend some time outside traveling from locations and taking pictures. If you're planning a July wedding, there are tips to beat the heat and minimize how much the brutally hot July temperatures affect your big day.
If the ceremony/reception is outdoors, set up tents to protect guests from the sun; if it is outdoors, schedule it for the evening hours when the sun goes down.
When it comes to attire, choose breathable fabrics such as silk, shorter skirts and light, elegant sheaths. Linen suits will keep the heat at bay, but the ultimate in hot weather attire, you can go with beach attire of sundresses, sandals and khakis.
Have plenty of cool water on hand to keep everyone hydrated. Yes, this may mean more trips to the restroom, but body temperatures overheating can be serious and can cause health problems that will require medical assistance. Drink plenty of water and avoid foods and beverages that dehydrate (alcohol and spicy foods, for example).
Before getting dressed, avoid heavy moisturizing creams that can cause you to perspire. Instead, apply a moisturizer with a fast-absorbing dry oil. Use a powerful antiperspirant on your feet and underarms. If you do feel overheated, simply run your wrists under cold water and drink water.
Choose make-up wisely and get the advice of a professional makeup artist if you can afford it. Use sheer, long-lasting cosmetics that won't drip or fade. Use a dusting powder for a matte finish and to avoid that oily look.
A July wedding is the perfect time for an up-do to keep your hair off your neck (up-dos are also very flattering to the face and neck). Avoid heavy, alcohol-based hair gel that will dry it out and cause frizz.
Here are some tips to keep your guests comfortable during your July wedding:
Keep the ceremony short; hold the reception inside, if at all possible.
Choose a venue near the water.
Provide shady areas.
Have a pool party wedding.
Offer fans and parasols.
Encourage a casual, comfortable dress code.
Have plenty of hydrating beverages on hand.
Rent tents if there is no natural shade.
Provide frosty, cool treats like popsicles and ice cream.
Keep the bugs away by surrounding the space with bug repelling candles and torches.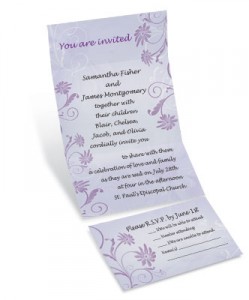 One of the most important things to remember is that while this is your "big day," the comfort of your guests should be of great concern to you. After all, you don't want the fondest memory your loved ones take away from your wedding day is they couldn't wait to get in their air-conditioned car. If you are planning a July wedding, follow these suggestions on how to beat the heat from PaperDirect, and your special day will be remembered fondly by all.
PaperDirect is your online shopping source for many DIY wedding needs including invitations, place cards, response cards, thank you notes, personalized napkins and so much more.