How About a Movie Theme for Your Fourth of July Party?
Seasonal & Special Events Ideas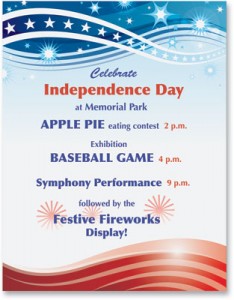 Independence Day is a federal American holiday that commemorates the adoption of the Declaration of Independence on July 4, 1776–declaring independence from Great Britain. The Fourth of July is the national day of the United States and is associated with cookouts, family gatherings, fireworks, parades, carnivals, concerts, baseball games, political speeches, ceremonies and red, white and blue clothing, flags, banners and such. If you're planning a Fourth of July party, PaperDirect has some Fourth of July party ideas to get your creative juices flowing, but before we look at those, let's look at some background information about this patriotic day.
Traditional U.S. Fourth of July Customs
Similar to other summer-themed events, Independence Day celebrations often take place outdoors. Independence Day is a federal holiday, so all non-essential federal institutions (like the postal service and federal courts) are closed on that day. Many politicians make it a point on this day to appear at a public event to praise the nation's heritage, laws, history, society, and people.
Families often celebrate Independence Day by hosting or attending a picnic or barbecue and take advantage of the day off and, in some years, long weekend to gather with family, friends and other loved ones. Decorations are generally colored red,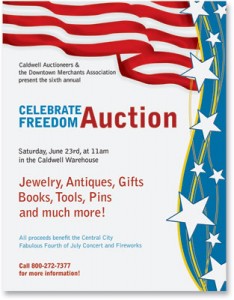 white, and blue, the colors of the American flag. Parades are often in the morning, while fireworks displays occur in the evening at such places as parks, fairgrounds, or open-roofed stadiums. Independence Day fireworks are often accompanied by patriotic songs such as the national anthem "The Star-Spangled Banner," "God Bless America, and "America the Beautiful."
Independence Day Party with a Movie Theme
Over the last few decades, there have been some great movies with the Fourth of July theme. After the outdoor festivities are over, you can move the party indoors and watch Independence Day-themed movies on a big screen. Or, if possible, you can rent an outdoor screen and air the movies on an outdoor screen (on a smaller scale than you'd see at a real drive-in movie theater, which are scarce these days). Here is a list of some movies you can play at your Fourth of July party this year:
The Patriot (2000) starring Mel Gibson and Heath Ledger. In 1776 South Carolina, Benjamin Martin, a French-Indian war veteran tormented by his past, wants to stay out of the American Revolution to live a quiet existence with his family on his farm. But when his son is killed by British Colonel Tavington, Martin enlists and becomes the leader of a makeshift militia. During the war, Martin and his men discover that though they pay a steep price for rebelling, they play an integral part in turning the tide against the opposition.
John Adams (2008) starring Paul Giamatti as John Adams. This film covers the span of Adams' life to his death on July 4, 1826. Superb acting, script, score and historical accuracy.
The Great Escape (1963) starring Steve McQueen, Charles Bronson, James Garner and James Coburn, this movie depicts the true story of Allied soldiers plotting a massive escape from a POW camp during World War II.
Rocky (1975) starring Sylvester Stallone as a second-rate fighter given the chance to fight the World Champion Apollo Creed in Philadelphia on July 4. A must see. Yo Adrian!!
Born on the Fourth of July (1989) starring Tom Cruise, the true, gritty, heart-wrenching story of paralyzed Vietnam War vet Ron Kovic and his anti-war and pro-human rights actions after his arrival home in a wheelchair. Get the tissues ready for this one.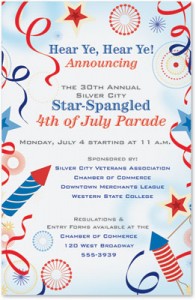 Independence Day (1996) starring Will Smith and Bill Pullman. How can you not watch a film entitled Independence Day at your Fourth of July party? As hostile aliens invade the U.S. right before the national holiday, the country unifies to do whatever it takes to protect the nation and save humanity.

1776 (1972) starring William Daniels as John Adams in the days just before signing the Declaration of Independence. With catchy music and performances, this patriotic film about our founding fathers is both entertaining and educational.
Forrest Gump (1994) starring Tom Hanks as the simple-minded Forrest Gump, who accidentally becomes involved in some of the greatest moments in American history. Gump just simply lives his life and goes along with whatever he's involved with, including fighting in Vietnam and becoming a war hero.
These are just some great Independence Day-themed movies to get you started. Keep in mind that PaperDirect is also you one-stop online shopping source for many of your July Fourth party needs including:
Want to print your own invitations–PaperDirect can explain how!