DIY Fall Wedding Invitations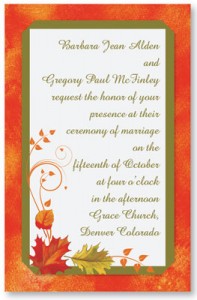 When you plan a wedding for the fall, you open yourself up to so many vibrant color schemes and wonderful themes. Many people say that fall is their favorite season because of the turning of the leaves and the cool temperatures signaling the coming of winter. Warm, sunny days and crisp, clear evenings make for great wedding weather, so if you are going to get married, you may want to consider a September, October or November wedding. Just think about all the wonderful fall colors that you can include in your wedding ceremony and reception, and it's just a great time of year as excitement for Thanksgiving and Christmas starts to build. If you're planning a fall wedding, be sure to order your DIY fall wedding invitation from PaperDirect today!
Designs for All Types of Weddings
Do-it-yourself (DIY) wedding invitations from PaperDirect come in many different styles with various designs and colors from which to choose. Matching our Pristine Folded, Flat and Square Invitations, our reception cards make the perfect set for your DIY fall wedding invitations. DIY fall wedding invitations require two things: a good design and good paper. PaperDirect has both! Check out the variety of types of fall wedding invitations at PaperDirect: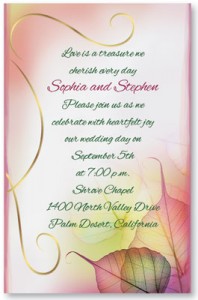 To go with your DIY wedding invitations, you will need outer envelopes, of course, and envelope seals,if you like. PaperDirect has everything you need to get your DIY fall wedding invitations organized and mailed out in plenty of time.