Fall Wedding Colors for Your Place Card Designs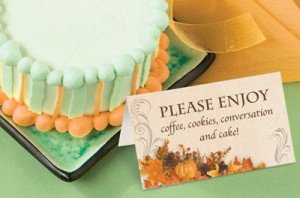 Color palettes instantly illicit a mood and tell a story about your wedding theme. If you are planning a fall do-it-yourself (DIY) wedding, you have made a wise choice: The season's colors are quite diverse and can be used for themes be they traditional, elegant or modern. Fall wedding color palettes can vary from traditional hues reflective of the colors of the season such as reds, oranges, yellows, coppers and browns to combinations of these shades with various accents. Be sure to keep your colors consistent when choosing wedding accessories such as wedding place cards from PaperDirect.
Traditional, Elegant and Modern Fall Wedding Colors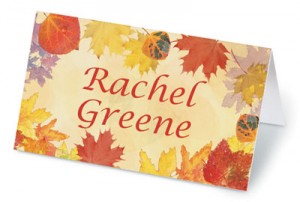 Fall wedding colors can be broken down into three categories: traditional, elegant and modern.
Traditional wedding colors will be the colors of the beautiful trees you see outside. When choosing a place card design, think about vibrant yellow, warm red or sunny orange as the main colors. To contrast the main color, you can add pale neutral colors from white to beige and include accents of brown to complement the look.
Black and white are classic elegant wedding colors, but even a black and white wedding can have another fall wedding color mixed in for a fall theme. A color often associated with fall is orange or red as these will pop against the black and white formal attire. Green, burgundy and taupe are also good choices that all work well with black and white. Accents of brown or copper will also work well with the elegance of black and white.
If you're planning a super chic modern fall wedding, your colors will be a bit more "out of the box" than you'd find at a traditional or elegant themed wedding. Grays, silvers and blues are popular at modern fall weddings especially when these colors are used as part of an "autumn sky" theme. Pumpkin and ivory accents would create a great nighttime motif against the darker, bolder main colors.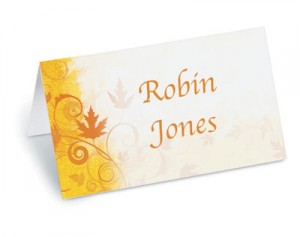 Many brides-to-be don't realize the importance of place cards at a wedding reception; they are often overlooked but are just as important as the wedding program or menu. You and your fiance spent days on the seating chart, so you don't want your hard work to go to waste by overlooking this little DIY wedding detail. Your place cards will let everyone know where they should sit to create scintillating conversation and to avoid family brawls. Last suggestion: Be sure to order your wedding place cards in a color that matches or compliments your other wedding stationery, especially your wedding menu and wedding program.
PaperDirect is your one-stop online shopping source for many of your DIY wedding needs!