Not Too Early to Plan Holiday Party
Christmas & Holiday Party Tips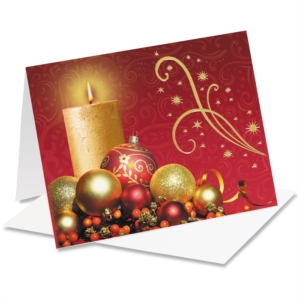 It's never too early to start planning for your holiday party this year! PaperDirect is your holiday party planning headquarters, and we have everything from Christmas invitations to thank you cards for any gifts people bring to your holiday event! Whether you're planning a small, intimate affair in your home or a spectacular holiday bash in a huge venue such as a Moose Hall or community center, PaperDirect has the supplies you need to announce   the event and get guests to your door.
Holiday Party Planning Tips
If you are going to host a holiday party this year, take a look at these tips gathered from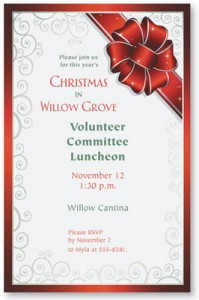 online party planning experts such as Marie Claire magazine, Martha Stewart and delish.com. For bar-stocking tips, Marie Claire published this information on their online article, "How to tock a Bar for Your Holiday Party."
Unless you're a celebrity with some hardcore, hard-drinking friends, you really only need vodka, rum, whiskey, wine and beer (and mixers) for your holiday party's bar.  Mixers should include the following: club soda, tonic water, Coke, Sprite or 7-Up, cranberry juice (orange juice if you're filling ambitious), water, lemons and limes. Having a pre-made cocktail such as a fruit punch of some sort is highly recommended as it will save time and effort for the bartender or host. Tools you will need include a corkscrew, shaker,  strainer and shot glass.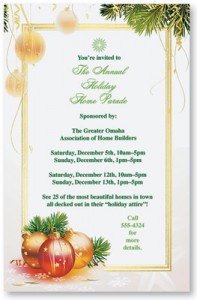 If you're wondering how much alcohol to buy, the rule of thumb is to plan for two drinks per person for the first two hours, one drink per person for the rest of the time. Assume 40% of your guests will drink beer, 30% hard liquor and 30% wine. So, for 25 guests, you'd need to buy 60 bottles of beer, 9 bottles of wine or champagne, 3 bottles of hard liquor and 12 liters of mixers.
For 50 people, you should stock as follows:
120 bottles of beer
18 bottles of wine or champagne
6 bottles of hard liquor
24 liters of mixers
For 100 people, you should stock:
240 bottles of beer
36 bottles of wine
11 bottles of hard liquor
48 liters of mixers
Other Holiday Party Tips
Since your guests must eat food to soak up all that alcohol, you have to give equal (or even more) time and consideration and expense to the food you serve at your holiday party. There are rules of thumb for planning how much food to serve at your shin-dig. As you read, keep in mind that you should always round UP your estimates, never down. Anticipate which foods will be more popular and serve more of them. For instance, we all love shrimp cocktail and know that it's always first to go at any party. Budget for as much of the popular foods you can afford. The more selections you offer, the smaller your calculation of portion size should be. Assume that everything will be tasted but tastes will be small. Adding "bulk" items to your party such as bread, pretzels, nuts and chips provides security that you'll have plenty of food for all and requires very little work.
Here are basic guidelines for individual serving sizes for party foods. Multiply these estimates by your number of guests and round up your estimates.
Portion Size Per Person
Hors D'oeuvres
6 bites before a meal
4 – 6 bites per hour when hors d'oeuvres are the main meal.
The longer your party and the larger your guest list, the more food you should offer.
The Main Meal
Protein (poultry, meat or fish) – 6 ounces when you have one main dish, 8 ounces when there are two or more
Rice, grains – 1.5 ounces as a side dish, 2 ounces in a main dish
Potatoes – 5 ounces
Vegetables – 4 ounces
Beans – 2 ounces as a side dish
Pasta – 2 ounces for a side dish, 3 ounces for a first course, 4 ounces for a main dish
Green Salad – 1 ounce
Desserts
1 slice cake, tart or pastry
4 ounces creamy dessert such as pudding or mousse
5 ounces ice cream
If serving two of the above, reduce each by half
Now that you have the information you need to plan an awesome holiday party with a fully-stocked bar and delicious menu, all you need now are invitations, banners and other party supplies, all available online from PaperDirect!