Guide To Planning A Wedding During The Holiday Season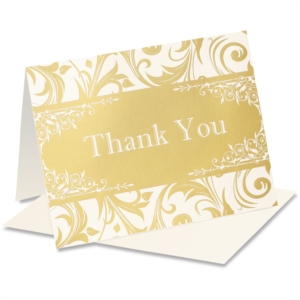 The holiday season from Thanksgiving to New Year's Day is many people's favorite time of the year. It's a joyous time and a wonderful excuse to spread good cheer and generosity to those you love and to complete strangers. Because the holiday season is such a busy time for families, some brides avoid the months of November and December for their nuptials because of fear their guests will have family and other holiday obligations. However, when planned well in advance so your guests have plenty of time to schedule other events around your holiday wedding, your ceremony can have a great turnout and be a huge success.
PaperDirect has gathered information from holiday wedding planning experts to come up with this guide to planning a wedding during the holiday months.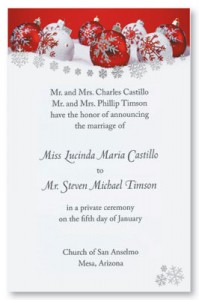 First, be sure you really want your wedding around the holidays. While your close family members may not mind adding another event into the already-busy holiday celebrations, guests who may have to come from afar may have to sacrifice other holiday plans to attend your wedding.
Plan at least a year in advance because churches, caterers, bands and florists are extremely busy during the holiday season.
Look for cozy venues and ones that may already be decorated for the holidays.
Save the date well in advance; be sure to let your guests know the date as soon as you do. Additionally, send invitations three months in advance to give your guests plenty of extra time to make travel arrangements. Out-of-town guests may have to pay more for holiday flights and hotel rooms; be sure to make reservations very early to ensure rooms are available.
Ask guests to allow a day or two cushion for the bad weather delays that are inevitable in the winter. Even if snow is not a factor in your region, flights may be delayed from other airports. If you're getting married in sunny Miami, you must keep in mind that you may have guests flying in from snowy Buffalo!
Serve festive cocktails like spiced cider, spiked eggnog, hot toddies and coffee with Bailey's, Kahlua and Sambuca. Your wedding menu can and should resemble that of a holiday feast. Suggestions: turkey, ham, and all the fixings. You may want to stick with a more traditional wedding cake, however, rather than holiday fruit cake! Ask your band or disc jockey to add some romantic holiday songs, and if you're having a New Year's Eve wedding, be sure to have champagne at midnight and plenty of party favors for guests.
More helpful hints for your holiday wedding: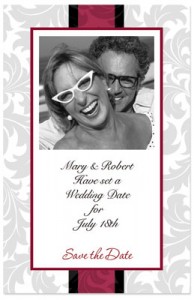 If you're sure that your Christmas card list is the same as your invitation list, you can include an informal save the date with your Christmas cards. PaperDirect has save the date magnets, save the date postcards and save the date photocards.
PaperDirect is your one-stop online shopping source for your DIY wedding needs. From wedding invitations to wedding thank you notes, PaperDirect has what you need to make your DIY holiday wedding an event for all to remember! Simply follow PaperDirect's guide to planning a wedding during the holidays!