4 Creative Corporate Holiday Party Ideas
Christmas & Holiday Party Tips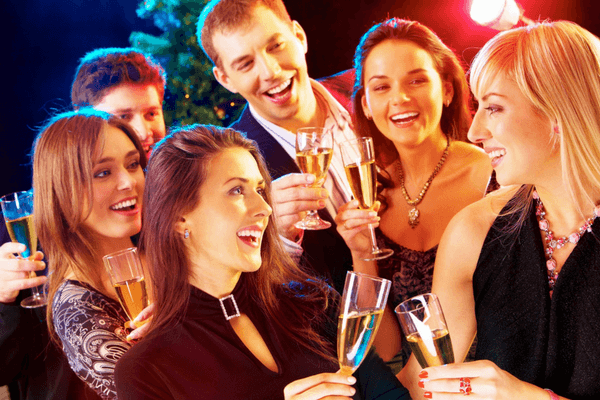 Are you the lucky office manager who has been charged with planning this year's big holiday party? Lucky you! If you work in a small office, your stress level should be manageable and you may even have fun planning the shindig, but if you work for a large corporation and people are expecting a holiday party of epic proportions, you may be feeling some pressure.
Helpful Tips for the Novice or Veteran Party Planner
Book an evening at a ski resort
Provide guests transportation such as a shuttle or multiple passenger luxury van. You really don't want your guests driving on windy, ice or snow-covered mountain roads, especially late at night after a party that may have alcohol. Guests don't have to hit the slopes if they aren't inclined, but the atmosphere at the ski lodge provides a cozy setting for winter time socializing.
Enjoy spending time outdoors participating in a variety of activities: skiing, sledding, or cross-country skiing, and then meet back at the lodge for drinks, warming up, and recollecting. The holiday party might officially start once the whole gang gathers at the lodge. Guests of all ages can enjoy an outing at the ski resort, and you can take the party outside by going on a sleigh ride, building ice sculptures, constructing snow forts, or having a good old-fashioned snowball fight!
Ask for suggestions
Reach out to the boss and colleagues before finalizing your plans. You may get a really creative idea, or you may discover that what you have done in the past was not as popular as you thought.
Choose a venue; not the office
It's tough for everyone to get into the holiday spirit if they're surrounded by the very things they see every day while working. Taking your party out of the office, even it's at a local restaurant, will set the mood and help your employees relax and have a good time.
Provide non-alcoholic drinks
Some of your employees likely won't want to drink during the evening. For those that do, try to monitor alcohol intake and make sure no one drives after drinking. You can have designated drivers on hand or call taxis for guests who can't drive.
The holidays are a time to relax and celebrate! Whether you're hosting or attending a holiday party, follow these simple holiday office party tips for the best time ever. PaperDirect is your online source for everything you need to plan the perfect holiday event.