Dos and Don'ts for Throwing the Perfect Bridal Shower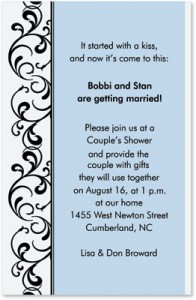 Are you always a bridesmaid? Have you thrown bridal showers before? Or is it your First Time? Either way, we've put together some fresh ideas along with Do's and Don'ts for throwing the perfect bridal shower.
DO
Take a deep breath – Before getting started. Visualize the whole event turning out great! Not to worry, your bride, best friend, sister or cousin will certainly appreciate all that you're doing—even if she's too distracted to show it right now!
Get help – Now that the right mindset is in place, line up some assistance. Assign your co-hostess (es) specific elements of the party: Invitations/RSVPs, food/menu, games, favors, prizes and decorations. List those who're helping out as hostesses on the bridal shower invitation.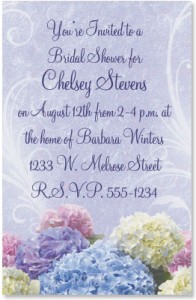 Decide on invitees – Ask the bride if others are also hosting a bridal shower for her. Sometimes the bride will have a family shower, for example. Ask if your bride would like an intimate affair with a few girlfriends or an all-out event including female co-workers, etc.
Plan personalized games – For instance: ask each guest to reveal something no one else knows about the bride. Then have the bride draw the "secrets" out of a fishbowl and read aloud. She must guess who told the "secret" (nothing too deep and dark). Interesting back stories generally emerge and you all get to know each other just a little better. There are many fun variations on this one.
Have an extra pair of scissors – Or two! One is needed for gift and card opening, the other for assembling the ribbon-bouquet. A third is good if one is misplaced during all the excitement.
Make reservations and check out the venue in advance – Make sure there's enough room for all and verify the menu or refreshments and other details. If in a home, plan out the seating–in case you need to bring extra folding chairs, for example.
Confirm RSVPs – So you can inform the caterer or venue or do the right amount of grocery shopping/cooking.
DON'T
Don't choose a theme randomly – Make sure to reflect the bride's tastes and personality. Don't go too casual if she has more traditional tastes or vice versa. Consider a theme related to the honeymoon destination. Stumped? Browse a party supply or a custom printing and paper design website for decoration inspiration.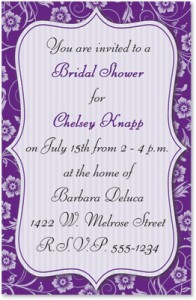 Don't include too many games – Two or three is plenty, allowing guests plenty of time to mingle, snack and of course watch the gift opening.
Don't send an Evite – Go ahead and use an online method or email as a reminder, but a custom printed invitation is always a wonderful keepsake for the bride-to-be and guests.
Don't forget about your gift – In the midst of all your party planning. Choose your shower gift well in advance so that you can get just what you have in mind.
Don't stress if something goes amiss – Everyone will still have fun and make memories. Enlist your co-hostess to help iron out any issues–it can be a bonding experience.
For help planning a bridal shower, stop by and browse our website. You'll find lots of inspiration and good advice from experienced bridal shower veterans. At PaperDirect.com, it's easy and fun to shop online for bridal shower invitations, RSVP cards, stationary, place cards, personalized napkins, favors, decorations and more for your event.