How to Save Money on Your Wedding Stationary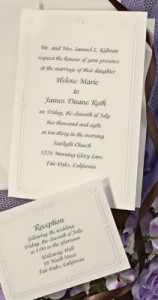 According to a recent survey of more than 17,000 brides, the cost of an average wedding topped $28,000 in 2012, and that's excluding the honeymoon. For brides on a budget, it's almost enough to make you want to elope. But before you start heading for a Vegas wedding chapel, take heed: With some careful planning and a little extra attention to the small details that make the greatest impact, you can make sure your wedding day is elegant, memorable and well within your budget.
The best place to start: the wedding stationery. By taking the time to select a style that suits your style and a color that coordinates with your palette, you can impart a feeling of quality, sophistication and style long before the first strains of the Wedding March are played.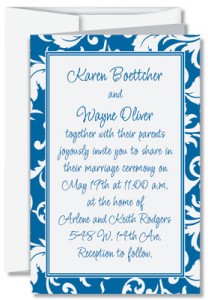 The invitations set the tone for your wedding, so it's important to make sure they're designed to reflect your own style. PaperDirect offers a substantial range of invitations ideal for all types of weddings, from formal ceremonies to more casual gatherings. Once you've chosen the style of invitation, carry the same theme throughout your event with coordinating programs, reception table cards and even thank-you notes. That kind of consistency is the hallmark of expensive, professionally planned weddings, and you can have it for a fraction of the cost.
So what should you consider when choosing your stationery? Color, for sure, but don't stop there: borders, illustrations, embossing and other embellishments enhance your design and help convey your theme. Finally, consider the type of calligraphy you want to use. PaperDirect features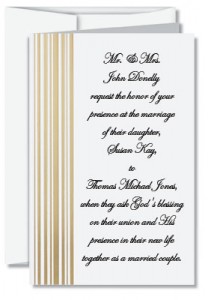 lots of different fonts and ink colors, so you can be as unique as you want to be.
Creating your own custom wedding stationery products is one of the most effective yet inexpensive ways to achieve the look of an expensive wedding without emptying your bank account. And you know what the best part is? With PaperDirect, you can do all this online, right from the comfort of your home, with a mug of tea in your hand and that old, grungy pair of fuzzy bunny slippers on your feet. Just don't let the groom see you like that.