10 Pinterest Worthy Company Christmas Party Themes
Christmas & Holiday Party Tips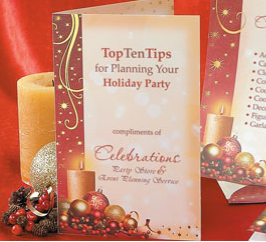 The company Christmas party is a chance for you and your fellow coworkers to let loose and enjoy the holiday season together. When planning the event, be sure to think about the various company Christmas party themes and decide on one that's best for your office. The following ideas can help you gather some inspiration during the planning stages.
10 Pinterest Worthy Company Christmas Party Themes:
Visions of Sugar Plums Christmas Party
This office party is all about the Christmas candy. Turn the office into a wonderland of candy canes, gum drops and bite-sized Christmas treats. Create a candy bar so employees can take home these festive confections at the end of the day.
Christmas Karaoke Party
Invite the office to a party where they will be singing Christmas carols all night long. Considering this is one of the more unique company Christmas party themes, you will want to create invitations that let guests know what to expect.
Office Cookie Exchange
Invite everyone to bring a dozen of their favorite Christmas cookies, and trade them with others in the office. Everyone leaves with plenty of treats to enjoy during the holiday break.
Santa Claus is Coming to Town
Make your company party all about the Big Man this year. Everyone must wear a Santa hat to this event.
Ugly Sweater Get Together
Admit it, you know you have an old Christmas sweater in your closet. Time to break it out and wear it to the company party for good laughs and good cheer.
Christmas Art Party
Create a Christmas craft with your coworkers. Paint a Christmas tree scene, or create a custom Christmas pottery piece to give to a friend or family member on December 25.
Gingerbread Competition
Divide the office into teams, and tell each team they have to create a gingerbread house. This party doubles as a team-building exercise, while also getting everyone into the Christmas spirit.
Christmas Traditions Party
Ask everyone in the office to share a bit of their family traditions at the holiday party. Someone could bring a cultural dessert, while someone else could read a favorite Christmas story aloud.
Feliz Navidad
Celebrate Christmas with a Latin twist. Serve tacos, salsa and margaritas, and dance the night away.
White Elephant Party
Ask all of the employees to bring a white elephant gift (a useless or funny item from their household) to exchange at the party. This theme nearly always produces laughs, and memories while teaching people the true meaning of the season.
No matter what company Christmas party themes you choose this year, you'll want to get the best paper products to promote your party and to decorate for the event. For all of your company Christmas party supplies, be sure to check out PaperDirect today.