Workplace Christmas Greetings Etiquette: Gifts, Cards, a Lump of Coal?
Christmas & Holiday Party Tips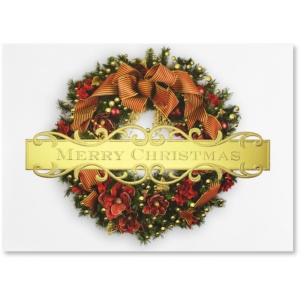 Christmas is approaching, and it's time to think about preparing your holiday greetings. When it comes to workplace Christmas greetings etiquette, it can be hard to figure out who to give cards and gifts to. Passing out gifts and greetings to everyone at work can get expensive, yet you don't want anyone to feel left out. These considerations will help you with workplace Christmas greetings etiquette so you can avoid holiday stress while spreading Christmas cheer.
Considerations for Giving Workplace Christmas Greetings
The Size of Your Work Environment. Unless your the boss, it would be nearly  mpossible and far too costly to send a Christmas greeting to everyone you work with in a large company. If the opposite is true and you work in a business with 10 people, then it's important to give each person a greeting. Within a large business, it's perfectly acceptable to give only to those in your department.
Keep it Cost-Effective But Cheery. Let's face it; Christmas cards can be expensive. Another way to include more coworkers on your greetings list without increasing expense is to use Christmas stationery instead.
The Message Inside the Greeting. The message you include on workplace greetings isn't likely to be as personal as the message you write for family and friends. As tempting as it may be to cross the line between workplace and personal life at Christmastime, remember to keep it professional so business relationships don't suddenly become uncomfortable.
Don't Forget the Boss. While you may not need to include coworkers you see only once per year, you should always include your boss on your greetings list, even if he or she is located in an office in another part of the building and rarely makes an appearance.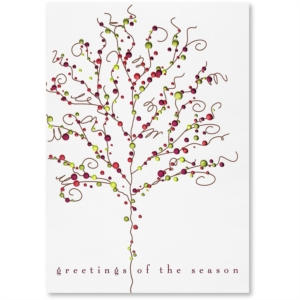 Easily Avoid Christmastime Faux Pas
Not giving a holiday greeting to the staff member on the opposite side of the office may seem inconsequential to you, but if that staff member happens to be the person who's been routing extra sales calls to you all year, you'd be committing a huge faux pas to leave them off your greetings list. Workplace Christmas greetings etiquette is easy to follow but requires some forethought. When in doubt, err on the side of caution. It's always better to give someone a greeting that doesn't really need to receive one, than to overlook a coworker or supervisor who should have been on your list.